One of the most useful (and hidden) features I've come across in iOS 8 is the ability to mute IM threads in Messages. Think of it like Do Not Disturb but on a case by case basis. I first noticed it by accident when a tiny crescent moon icon appeared next to one of my IM threads and so I Googled it to figure out what exactly it was.


When do not disturb is turned on for a particular message thread, you won't be notified when that person(s) replies via text or iMessage. This can be really great if you want a way to ignore a person or group discussion that's gotten out of hand. It can also be really frustrating if you happen to activate it by accident as I apparently I did without realizing it (or perhaps a bug in iOS 8?).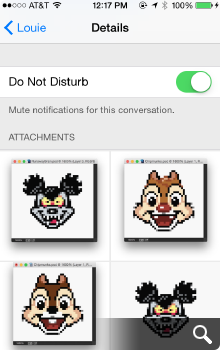 To turn Do Not Disturb for individual message threads on or off, tap the Details text at the top right of the Messages window to open that thread's detail view. Next, scroll down to Do Not Disturb and toggle on or off as desired. When this feature is turned on, you won't receive notifications when the person sends text messages or IM's and you can go about your life notification free.
The Details view also gives you quick access to all the images that person has shared with you, as well as the ability to share your location information with the people you're chatting with which is a nice feature as well.
The more I play with iOS 8, the more little things I find that truly set it apart from iOS 7. It's wonderful that Apple is giving us more control over our digital world, I can't wait to see what else is in store.
PS – I love Louie to death and would never mute his IM's. He was gracious enough to let me use our conversation as an example. Thanks Louie! 🙂