Remembering Robin Williams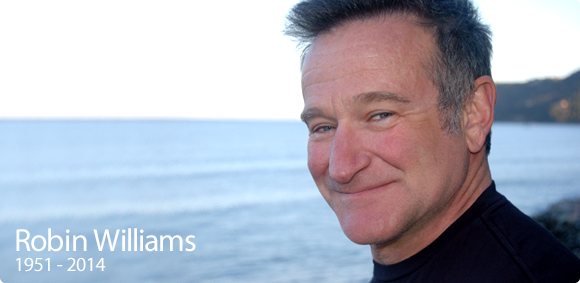 I and many other people are feeling a deep loss at the sad news that funny man and Oscar-winning dramatic actor, Robin Williams, has died at the age of 63. From my introduction to Robin as Mork from Ork on Happy Days to his break-out stand-up performance at the Metropolitan Opera in New York, I followed his career at every step of the way and enjoyed everything he appeared in. Some of my favorite Williams' performances include Good Morning, Vietnam, his amazing voice over work as the Genie in Disney's Aladdin, Dead Poet's Society, Awakenings, Toys and The Birdcage. It pains me to say it but there are many films he's appeared in that I've never seen. With his passing I think I'll have to correct that oversight and re-discover some of Robin's incredible work anew.
There are only a few celebrities & personal heroes who, when they pass, I will truly grieve for. Robin Williams is one such person. He brought so much happiness, laughter and light into our lives it's difficult to imagine a world without him. Personally, I'll be focusing on all those wonderful moments and characters, all the belly-laughs and chuckles and even the tears he conjured as he entertained and transfixed us. He was a bright star in the lives of those friends and fans who loved him and he will be dearly missed.