All hands! Fasten seat belts!
This page may take a few moments to load, but if you're a Star Trek fan like I am, it's worth it. Some geeks recently trained their image stabilization software towards the decks of the Starship Enterprise with hilarious results. These animated GIF's show what the director and crew saw while filming these scenes for the various incarnations of Star Trek.
The original series used the shakey cam all the time so it's really fun to see just how these shots were choreographed. I'm struck by the sheer number of people who were apparently on the bridge at the time of this impact. I love the blocking ballet that George Takei as Sulu has to do here to not only get out of his chair, but somehow hit the floor without breaking his neck. Well done, George, well done!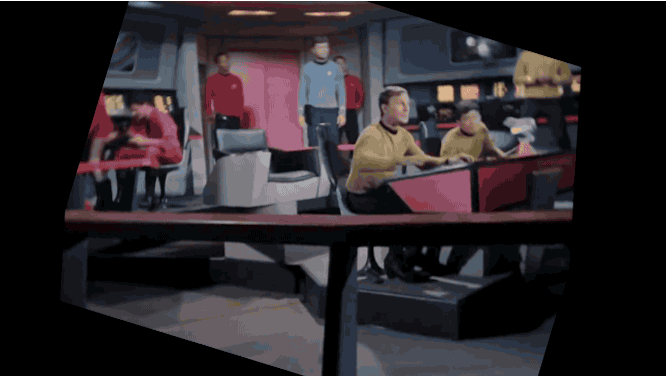 Meanwhile on the set of 1982's Star Trek II: The Wrath of Khan, the Enterprise takes a hit and once again no one is wearing seat belts. DeForrest Kelly is in his usual position for bridge scenes (above and behind the Captain) and once again he goes flying on cue, but this time to the right. It is me or is Kirstie Alley kinda phoning it in here as Savvik? So much fun!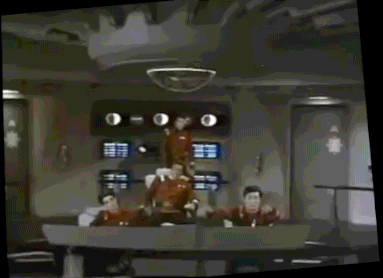 Fast forward to S7 of Star Trek: The Next Generation's episode Force of Nature. I could watch this stabilized clip on a loop for days. I love how everyone's doing their own little stylized dance to convey the rocking of the Enterprise. Jonathan Frakes clutches his chair and appears to simultaneously steady himself AND rock the chair convincingly for the camera. The Hekaran scientist with Worf on the 2nd level struggles to hold on while the ensign in the back lurches, helping to complete the illusion. Oh, and Patrick Stewart may be the only person I know who can make shaking for the camera actually look cool. Okay, maybe not.
I love this hilarious gif of Next Generation's Brent Spiner as Data pilots the Enterprise through a particularly violent jolt. You can imagine the crew member standing just off camera waiting to give his chair and console a good WHACK! when the director calls action. I wonder how many takes this took to get through without Brent cracking up.
This last GIF is from the Original Series but it's almost 5mb, so if you want to take a gander, click here. Classic TOS fun!