The Best Beards in Baseball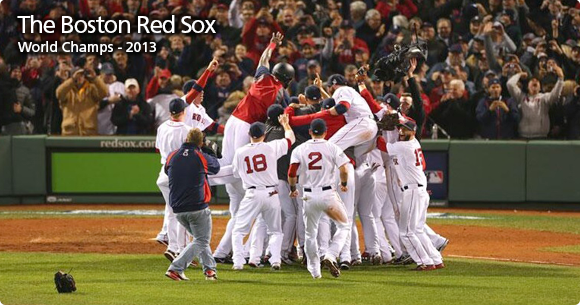 I remember tweeting "It's a rebuilding year!" all during the entire 2012 baseball season as Bobby Valentine's Red Sox racked up one of the worst records ever. It became a running joke for myself and a few of my fellow Red Sox fans, but this past week the memories of that dismal record were all but forgotten as the Red Sox beat the Cardinals in 6 games to become 2013 world champs yet again. I'm not sure what felt better, watching Ortiz rack up an amazing .700+ post-season batting average or the fact that the Yankees never even made it to the playoffs. Okay, both felt pretty good.
Throughout the 2013 season, I really thought the Sox were going all the way. They had a confident new manager in John Farrell, exciting fresh faces like Shane Victorino and Jackie Bradley Jr. and after the bombing at the Boston Marathon, a strong determination to win for the city that loved them so very dearly. They started growing out their beards for luck and that silly bit of camaraderie propelled them forward, racking up win after impressive win. Unlike past years when the Red Sox bullpen collapsed mid-season, this time the strength of the pitching roster only increased. The young mid-relief pitcher Uehara gradually found his way to becoming one of the toughest closers this club's ever put on the mound.
All these threads led the Sox to the 2013 World Series, a post-season match up that did not disappoint. Game 3 saw an incredible ending due to an obstruction call on 3rd base and game 4 ended with a lightening pickoff from Uehara that even Fox's cameras missed the first time around. All-in-all the 2013 baseball season brought me, and the rest of Boston's fans, a great deal of happiness. As a boy I used to think I'd never see the Red Sox ever be crowned world champs. Now it's happened for an amazing third time in ten years and I honestly still can't believe it. Thanks to Pedroia, Ortiz, Ellsbury, Lester, Victorino and all the rest of those bearded boys for making 2013 a year to remember. Congrats guys, enjoy the celebration!