Today Doctor Who fans around the world learned that 55-year-old Peter Capaldi has been cast as the 12th incarnation of everyone's favorite Time Lord. While the choice of Capaldi will no doubt prove to be serviceable, I can't help thinking that Steven Moffat, Doctor Who's lead writer and executive producer, blew a huge opportunity to take the show in fresh directions and gain scores of new viewers in the process.
One of the greatest character strengths the Doctor possesses is the ability to regenerate. When the Doctor dies, he is reborn and played by a new actor, sometimes for an entire generation of fans. Yet, in the entire illustrious 50-year history of the BBC show, the part has yet to be played by anyone other than a white male. The actors who play the Doctor have varied in age and style and each brought their own wonderful interpretation of the Doctor to the small screen, but the general dynamic is always the same. The Doctor is always male, and although his companions sometime vary, the are typically young, pretty females.
Imagine the storytelling possibilities that would present themselves if the Doctor regenerated as a woman. Thanks to the spirited portrayal of River Song by actress Alex Kingston, we have a hint at just what such casting could be like. Much like the Doctor, River was a strong-willed, cocky scientist who was always in the thick of trouble. But River is not the Doctor and a true portrayal of that ancient Time Lord by a woman would instantly add interest, drama and a breath of fresh air to the series. Moffat could have broken with tradition and cast a woman as the Doctor or gone even further and cast a new, male companion for her as well. Suddenly all the old stories would be turned on their head, new character interactions could be explored and we might even have a reversal of sexual tension in the TARDIS.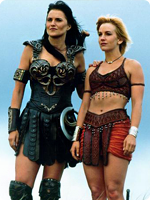 Even if Moffat chose not to explore those themes or kept a female companion for the Doctor, how much more interesting would a female / female dynamic be when chasing down Daleks and saving the universe (yet again)? I always loved the interplay between female leads on shows like Xena: Warrior Princess and Buffy the Vampire Slayer and I think it could work wonderfully on Doctor Who. It would also give girls the world over a new female role model that they could look up to and be inspired by.
The forward-looking nature of science fiction shows like Doctor Who, demand characters and stories that make us stop and think. Star Trek portrayed its first black Captain twenty years ago in 1993 when Avery Brooks played DS9's Captain Sisko and just two years later Voyager cast Kate Mulgrew as Captain Kathryn Janeway. Sooner or later the character of the Doctor will be played by a woman. When that day comes I'll stand up and cheer loudly for a show I've loved since childhood. With the news of Capaldi's casting I'm buckling down for more of the same kinds of stories we've seen for the last 50 years, and that's a shame. Today I wish I was shouting "Geronimo!" instead of merely muttering "Meh."