Olloclip: Up Close & Personal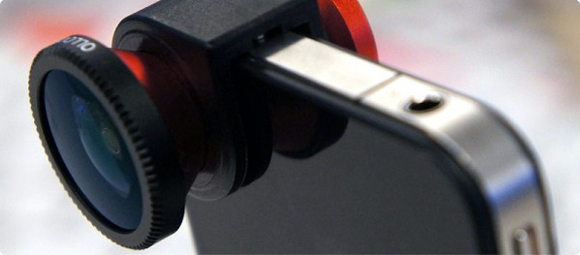 The Olloclip is a handy 3-in-one lens attachment for the iPhone 4 and 4S that lets you take wide angle, fisheye or macro shots rather easily. The clip itself is small enough to fit in the palm of your hand or your pocket and is easily attached simply by sliding it directly over the lens of iPhone's built-in camera. The Olloclip contains a funky fisheye lens on one side and a wide angle lens on the other. This wide angle lens can be unscrewed to reveal the macro lens which allows you to take super close-ups (12-15mm) which are great for getting shots of insects, fauna or surface textures.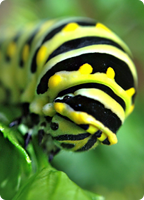 I've been using my Olloclip for the past few months and I have to say I've really enjoyed it. I've always been interested in macro photography but didn't want to spend hundreds of dollars on expensive SLR's and associated lenses. While the images the Olloclip produces may not be National Geographic quality, I've found them to be quite good, and certainly good enough to satisfy my hobby. I initially bought the clip to photograph a few Swallowtail caterpillars who had made their home on some parsley I had planted. The shots came out so good, I was soon hooked and have found myself constantly looking for fun macro subject matter. Head over to my Flickr set of Olloclip macro shots to see some examples I've posted.
While the macro lens is by far my favorite feature of the Olloclip, the wide angle has also come in handy. I love being able to get a more complete image when snapping a picture of a room or a group of people with the Olloclip, although I have found that the resulting images seem dimmed at the very fringe of the optics. I've read that real estate agents LOVE the Olloclip's wide angle feature and I can understand why. The fisheye lens is fun for unique occasions, but too funky for every day use. Every picture taken with the fisheye looks like you're looking out a peephole, great as a novelty but the resulting images are too strange for every day use.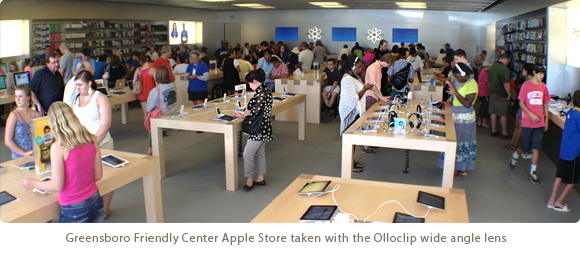 About the only downside I can see to the product is that it can only be used when your iPhone is naked. If you keep your iPhone in a case (even an extremely thin one) then you must remove it from the case in order to slip on the Olloclip. I completely understand why this is necessary, it just increases the time and effort it takes to get the shot you want, especially if you're shooting a finicky subject like bugs. By the time you get your case off, the Olloclip on and the wide angle lens unscrewed, your butterfly may be long gone. I also wish it was "universal" in design and worked on both the iPhone and the iPad, although admittedly I don't see how a single design could accommodate both devices.
The Olloclip started life as a Kickstarter campaign that raised the necessary funding and began production in June of 2011. It can be purchased in Apple retail stores or online for around $65 and is well worth the price. Considering similar SLR lenses will set you back hundreds of dollars, the Olloclip is a great way for amateurs to have their photographic cake and eat it too. Macworld gave the Olloclip four out of five mice, and the rating was well deserved. It's a joy to use and has increased my love of digital photography by an order of magnitude. I highly recommend it.