Target Aims for Tolerance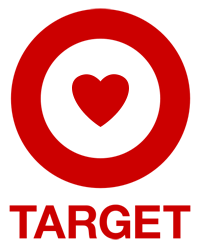 As a small business owner, I know the dangers of one's company taking public, political stances on firey topics. So when Minnesota based retail mega-chain Target came out in full support of gay marriage via new fund raiser this past week, I knew it was a courageous decision. Like my home state of North Carolina, this November MN voters will decide whether to put a gay marriage ban into the books. Not content to sit ideally by and let discrimination be written into their home-state's constitution, Target has decided to take a stand and sell T-shirts to raise money for a group working to defeat the gay marriage ban in Minnesota.
Predictably, anti-gay marriage supporters are none-too-happy. Chuck Darrell, spokesman for Minnesota for Marriage said of Target's decision – "Target is attacking traditional marriage, which is an incredibly misguided thing for them to have done. It's an insult to the overwhelming majority of their customers."
I never quite understand how traditional marriage supporters believe that by extending marriage rights to gays and lesbians, their own beliefs are "under attack". How does it affect heterosexual's rights to marry simply by allowing homosexuals to do the same? It makes no sense to me and demonstrates the "our way or the highway" mentality of the anti-gay marriage mentality.
Standing up against hate is always tough especially when traditional marriage proponents are sure to call for a sweeping boycott, potentially costing Target millions in revenue. Just ask North Carolina's own Replacements Ltd., one of the country's largest suppliers of replacement silver, china and glassware what happened when they took a stand against NC's Amendment 1. Hostile letters poured in, customers cancelled their business and the owner's personal safety was in doubt. Unlike Bank of America, Duke Energy or any of the other NC Fortune 500 companies that stayed conspicuously silent during the run-up to A1, Replacements Ltd. took a stand and in so doing, earned the respect of those of us who support gay marriage like myself.
I've always enjoyed shopping at Target brand stores and now I have a new reason to frequent their chain over their competitors, which I fully intend to do. It takes guts and wherewithal to do what Target has done and they seem to have both in abundant supply. Such companies deserve both our praise and our business.