The Good, The Bad & The Timelord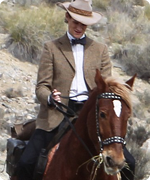 Filming on series 7 of the hit scifi series, Doctor Who, has begun and Mail Online has spied the stars on set, but not in Cardiff. Matt Smith and Karen Gillian were found on the famous desert lots of Almeria. This southern spanish town has been host to over 100 western films including The Magnificent Seven and A Fistful Of Dollars. I'm always wary when scifi crosses paths with westerns, but I trust Steven Moffat to bring us a memorable adventure. How bad could it be, really?
The Mail highlights some fun pictures and gives vague details about the perils the Doctor and his trusty companion Amy Pond will be facing, but nothing that spoils the episode. If you love Doctor Who, surf over to Mail Online and check out the on-set adventures of Smith and Gillian and then set co-ordinates for the BBC this fall for the return of Doctor Who series 7. Geronimo!