Charadium II, I Love You!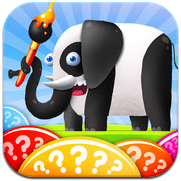 There are only a handful of games on my iDevices that have withstood the test of time and clung to my home screen. Some of these games include Carcassonne, Plants vs. Zombies, Orba, Tiny Wings and now Charadium II. Charadium is a classic Pictionary type game where players take turns drawing a word and guessing each other's creations for points. There are a bunch of games of this genre in the App Store, but Charadium is far and away the best of breed I've played, and much of that is due to the attention to detail developer On5 has put into the app.
There are two main modes of play, Classic and Ping Pong. Classic lets you join a room with other random players or friends and compete in a round-robin, timed competition to guess words. The play is fast and furious and tons of fun. Drawings don't have to be pretty they just need to communicate quickly. The faster someone guesses your word, the more points you will score. The other mode, Ping Pong, is my favorite when playing Charadium. Here you play with a friend and take turns drawing words from a list of three choices (easy, medium and hard). The harder the concept to draw, the more points you'll net, but you also risk your opponent not guessing correctly at all. Incorrect guesses hurt your overall point total and can push your opponent to victory. I love Ping Pong games because they are not timed, you can play multiple games at once (like Carcassonne), and you get to choose the difficulty of the word to draw. Also, you're not usually playing against random strangers so cheating (drawing words) is not an issue.

On5 makes a free and paid version of the app so you really have no excuse not to give it a try. Of course even the $2.99 iPad version is well worth the price and gives players full access to fun extras like more colors, more brushes and of course, no in-app advertising. This is a similar model we use at the Iconfactory for Twitterrific and it really is the best of both worlds. Charadium is also a great example of an app that improves measurably with each new update. In recent point releases, the game has added new brushes, new colors, the ability to play back all drawings (LOVE THIS), saving drawings to the camera roll and much more. There are still a few features I hope On5 adds like a paint bucket to quickly fill large areas with color, and a "Redo" command as well as undo, but overall the game play can't be beat. Perhaps the App's biggest failing, if there is one, is the need for greater stability. Ping Pong games sometimes get stuck and won't advance, drawing previews are not always available or in-game chatting won't dismiss. If the developers can find a way to make Charadium a bit more reliable, it would become one of my all-time favorite games for iOS.
If you love to draw, are looking for a fun, social game you can play in your spare time or like seeing how other players solve visual problems, Charadium II is for you. I enjoyed the game so much I bought a Cosmonaut Stylus from Studio Neat for my iPad just so I could draw better while playing. No matter what your level of artistic skill, there's something for everyone to love in Charadium. Check it out!