Nimoy Beams Up to 'Big Bang'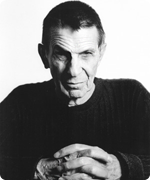 If you're a fan of Star Trek and CBS's geeky comedy The Big Bang Theory, then this is the stardate you've waited for. Sources at TVLine.com report the March 29th episode of Big Bang will include a long-sought guest appearance by none other than Star Trek's own Leonard Nimoy.
Fans of Big Bang well know just how obsessed Jim Parson's character, Dr. Sheldon Cooper, is with both Spock and the actor who plays him. Other Trek vets such as Wil Weaton, LeVar Burton and Brent Spiner have all made appearances on the hit comedy, but Nimoy is the vulcan we've all been waiting for.
Even though Nimoy will only be heard and not seen, this has to be a huge coup for Bill Prady and the rest of the cast of The Big Bang Theory. I can't wait to see how they work Nimoy into the story and hope it will eventually lead to more guest appearances. After all, it's only logical.