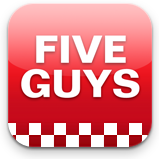 Blame the ailing economy if you like, but in recent years businesses have become more and more willing to experiment in order to get a leg up on the competition. Seeking to capitalize on the increasingly tech-savvy public, the acclaimed burger chain Five Guys, has introduced a new iPhone and Android application that aims to make your dining experience quick and effortless.
Five Guys joins the ranks of restaurant chains like Chipolte Mexican Grill and Outback Steakhouse that let customers not only browse their menus but also place a to-go order right from their smart phones. I take food out from local Greensboro eateries a lot and I usually try to call ahead so I can get in and out as quickly as possible. The breakdown in efficency usually occurs at the time of payment and so I end up waiting in line to fork over my debit card while I hope and pray my food is even ready.
When ordering with Five Guys' or Chipolte's apps, you specify what time you want to pick up your food, pay for it via secure ordering and even save your favorite selections for future reference. I tried the Five Guys app today and it was a dream. I entered the store, went directly to the pickup counter and simply gave my name. The order was ready to go and I was enjoying my lunch all within minutes of walking in the door.
I can envision a time in the not-too-distant future when customers won't even need to pull out a wallet when eating at their favorite restaurant. The advent of smart phone payment apps like Square and iOS 5's geo-fencing technology have already started to revolutionize the way people shop, and soon dining experiences like the one I had today at Five Guys will be the rule, not the exception. Now if we could only design an app to get us through TSA lines as quick and "painlessly".
[Dan Frakes and David Lanham contributed to this post]