One of Our Experts Is Missing

If you're a fan of the break-out TV hit that is Pawn Stars then you've probably noticed something strange is afoot. One of the best parts of this guilty pleasure from the History Channel is when the gang at the World Famous Gold and Silver Pawn Shop call in experts to appraise rare or exotic items. Chumlee and the Old Man are wonderful TV personalities but so are many of the experts featured on the show. I always enjoy seeing Drew Max pull out his over-sized magnifying glass and confirm the value of Babe Ruth's signature, or Danny Koker break the bad news to a customer that their custom-built trike just isn't worth the $30,000 they were asking for.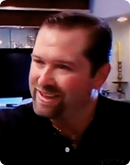 Lately however, one of the show's most well-known and loved experts has gone missing. Sean Rich is a Master Antique Gunsmith and has appeared in over 50 episodes of Pawn Stars since it debuted in 2009. He's usually called in when the gang needs antique guns, swords or other armory appraised and his visits are always fun. For the last two seasons Rich has been the go-to guy for these types of appraisals, but he's been completely absent from season 5 (and much of the last half of S4 as well). The producers started substituting other experts when Rick needed firearms appraised but they're just not Rich. I knew something fishy was going on when Mark Hall-Patton, the beloved curator of the Clark County Museum System, was called in to appraise a rare LeMat pistol from the Civil War. This was an item that would have made Sean positively dance with glee, and yet here was Mark at the pawn store, looking over an item that was clearly out of his area of expertise. So what's going on?
The last expert on Pawn Stars that suddenly took a hiatus from the show was Rick Dale, now the star of the spin off show American Restoration. Rick and his shop proved so popular that producers gambled viewers would watch a show just about restoring antique items, and they were right. American Restoration is a great show and Rick is a wonderful TV personality, but is the same thing about to happen with Sean Rich? I think it's more likely that Sean is simply busy with another project that's filling his time. Sean worked as a consultant on some of the Pirates of the Caribbean films and so I'm hoping that he'll eventually return. In addition, Sean's business Tortuga Trading Inc., is run out of his home and doesn't have a traditional shop like Rick Dale that could be used as the basis for a new show. The only other explanation is that Sean and the show's producers had a falling out, and I really hope that didn't happen.
One of the things I love the most about Sean is how excited he gets to see a genuinely rare piece. He obviously has a great appreciation for history as he often explains in geeky detail what makes a firearm valuable and I must admit his enthusiasm is infectious. Before Pawn Stars came along, I really didn't know anything about antique guns or why they were awesome but thanks to Rick Dale and Sean Rich I now have a greater appreciation for the value of these fine pieces of history. Here's hoping Sean eventually emerges from some dusty tomb or secret Hollywood film set and takes his occasional place along side Rick, Corey and the Old Man yet again.
Update: Thanks to an email sent by another curious fan, we now have the answer of what happened to Sean on Pawn Stars. Seems as though the executives at the History Channel and the production company behind Pawn Stars wanted to lock Sean down into an exclusive arrangement for his appearances and offered him little or no money. He refused and so they replaced him. Damn shame, I was afraid of something like this. Thanks a lot History Channel, this is why we can't have nice things. 🙁
Update II: After two full years, it appears Sean Rich is back on Pawn Stars. Sean briefly appeared on the Oct, 2nd 2014 episode and was brought in to appraise a colt firearm. I was astonished to see him again and stricken by the fact that absolutely no mention was made about why he had been away or why he didn't receive a nice "Welcome back, Sean!" from Rick or the guys. It seems like The History Channel wants to pretend he never left. Hopefully he's back for good. Fingers are crossed.