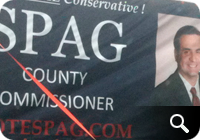 Local lawyer and conservative blogger, Sam Spagnola is running for county commissioner. Sam and I have had dust ups over on Ed Cone's blog and it's no secret that I disagree with the vast majority of positions he's taken on national politics. So when I spotted (what I assumed must be) his truck at the Quaker Village shopping plaza, I had to snap a few pictures.
Even though I've never met Sam in person, I have to say that the messages conveyed on his vehicle fit the man to a tee. Typically politicians seeking office take the moderate route so Sam's slogan of "Elect a REAL conservative!" could be considered a bold, fresh marketing move. Unfortunately for voters like myself, seeing his mocking of our president on his bumper sticker and license plate turned me off. Then again, I guess local constituents and business owners like myself are not his target audience. Best of luck, Sam!
UPDATE: Turns out I assumed wrong (bad me!) and the truck isn't Sam's after all but one of his bigger supporters. The good news for Sam seems to be that his identity as a true conservative politician appears to be hitting the mark with his voters. I've said before and I'll say it again, major props to someone who takes action and runs for office instead of just standing on the sidelines grumbling to the crowd. Local government could use more of this, no matter what side of the aisle you're on.