Greenland's Disappearing Ice Lakes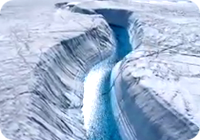 While the battle rages between climate deniers and the consensus of the scientific community, strange things are afoot in Greenland. The PBS series NOVA documents the country's rapidly changing landscape with the help of survey photographer James Balog. Extreme Ice is broken into six parts but the most ominous segment deals with Greenland's strange disappearing lakes.
In recent years the summer melt season in Greenland has grown hotter and now lasts two weeks longer than it did only a decade ago. This has resulted in huge, fresh water lakes forming on the ice sheet surface. Some of these lakes are miles in diameter and up to 50 feet deep. Although these melt lakes contain hundreds of thousands of gallons of water, satellite imagery has recorded their disappearances in just the span of a few hours. Years ago it was believed the water was simply re-absorbed into the surrounding ice, but recent surveys have discovered something more dangerous. The water is boring down through the ice to the bedrock below and lubricating the entire ice sheet of Greenland. The implications of this, if true, are staggering.
One such amazing lake event was witnessed first hand by the NOVA team and documented for the special. The entire 60 minute broadcast is available on the PBS website and is worth your time. Watching these incredible frozen landscape melt away is strangely beautiful but deeply unsettling. As climate skeptics dominate the media and introduce measures in government bent on denying action to stop the effects of man-made warming, Greenland is slowly but surely slipping away. The debate about what's causing climate change may never end, but the real question now is what are we doing to prepare for the coming disaster?