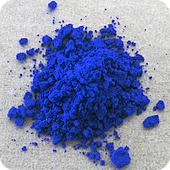 The New York Times reported this past week that chemists at Oregon State University have created an all-new, extremely durable and intense blue pigment. Like so many other famed scientific discoveries, this one came as a complete surprise to Mas Subramanian, a professor of material sciences, who was attempting to make new compounds for use in electronics.
Subramanian and his fellow professors discovered that by mixing manganese oxide with other elements and heating them to very high temperatures (2000 degrees F), crystals were formed that reflected only blue light. The potential uses for this new pigment are vast, especially since so many of the modern blues in use can fade or, in some cases, are toxic. The only stumbling block seems to be the use of an expensive chemical, indium, which the researchers are now attempting to substitute for a less expensive component.
I love stories like this because it reminds us that science isn't always about creating super conductors or finding a cure for cancer. Although such discoveries are important in their own right, finding a new blue reminds us that chemistry is the basis for everything in the natural world, including the colors we see each and every day. An awesome, elegant and artful combination.