Lessons Rush Never Learned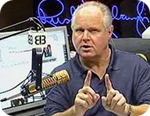 Ask any parent what's one of the first things they teach their kids and they'll probably say "Don't call people names." It's a lesson we all learn and one that helps keep discourse civil between functioning adults. Although we all do it occasionally, there are some that wield it so often it eventually becomes a crutch.
Right-wing radio host Rush Limbaugh is one such person. Rush has never been known for his ability to discuss topics like an adult, but over at Wikipedia they actually have an entire page dedicated to Rush's on-air jargon that he uses to belittle and berate others. You can read the entire list, but here are just a few of the more egregious examples Rush uses on his daily show.
This list is just one of many reasons why the GOP has seen its most dramatic decline in membership in decades, despite what Dick Cheney thinks.
• Banking Queen – Barney Frank. Reference to Frank's homosexuality, his seat on the House Financial Services Committee and the controversy surrounding his views that there were no problems with Fannie Mae and Freddie Mac. Rush would often accompany this with a parody of the ABBA song, "Dancing Queen".

• Bela Pelosi – Speaker of the House Nancy Pelosi (D-CA), a pun on the name of Hungarian film star Bela Lugosi, best known for his portrayal of Count Dracula.

• Benedict Arnold – Nevada Senator Harry Reid, after the famous soldier and traitor.

• Feminazi – "Feminazis" are those that Limbaugh claims are so devoted to feminist ideology (and the pro-choice cause in particular) that they are as repressive and hostile to personal freedom as members of the Nazi party were in Germany.

• Nostrilitis, Nostrildamus – Rep. Henry Waxman (D-CA).

• Senator Dick Turban – Senator Richard Durbin, (D-IL). Limbaugh began using this moniker after Durbin made controversial remarks on the Senate floor which according to Durbin's critics amounted to a comparison of the alleged abuse of detainees at Guantanamo Bay by U.S. military personnel, with the war crimes of Pol Pot and Hitler.

• "Osama" Obama – President Barack Obama. Limbaugh uses this alternate name for Obama as a reference to Senator Ted Kennedy's (D-MA) mis-speak during a luncheon at the National Press Club (Jan 11, 2005). Kennedy, making mention of Obama's large win during the 2004 elections, stumbled over Obama's first name, stating "Osama bin Laden, Osama Obama, Obamamam."