Andy Richter Gets Tweaked for DVD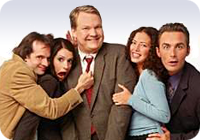 Back in January I wrote about the release of one of my all-time favorite TV shows on DVD. After almost 7 years, Andy Richter Controls the Universe was released on March 24th and thanks to Amazon.com I had my copy on the 25th.
All in all, CBS has done a pretty good job with the transfer of the show to DVD. The box set is formatted for 16:9 televisions and the decisions about where to crop the image for widescreen make it seem like the show was originally shot in HD, which it wasn't evidently was (my bad). The picture is clear and selected episodes even come with audio commentary from Richter himself. If you're a fan of the show, don't miss these as well as the making-of features that are at the end of the third disk.
While it's indeed awesome to finally have ARCTU on DVD, there are a few upsetting things that Andy fans will immediately notice. The first problem relates to the order of the episodes. While the DVD appears to list the show's episodes in broadcast order, it would have made much more sense to list them in the order they were produced. It's never made sense that the show's 2nd episode (aptly entitled "Second Episode") was aired 4th, especially since it immediately follows the events in the pilot. New viewers will inevitably be confused.
Perhaps worse are the numerous changes in the show's soundtrack that have been made. It's impossible to tell if these edits were done because CBS couldn't or simply didn't want to secure the rights for the original music, but either way they're disappointing. Here are just four examples from two episodes of the changes that have been made.
Some of the changes I can deal with, but others are just bad. The "pseudo Sting" cover when Andy meets Wendy in his office is one of the worst, but the loss of the clip from The Sound of Music in "Grief Counselor" just plain makes me sad. I always got a chuckle out of Andy & Wendy kissing to the cooing sounds of Austria's heartland and now it's gone. I imagine this change was made because 20th Century Fox owns The Sound of Music and they didn't feel like negotiating proper rights. Still, I'm a firm believer in the credo "If you're going to do something, do it right".
Overall this is a welcome, and long overdue release of one of the most underrated TV shows ever. If you're a fan of Andy Richter, this set is definitely worth picking up. The image quality and formatting, as well as the DVD extras help make up for the sub-par treatment the soundtrack received. Check it out!