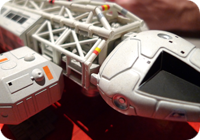 While I was doing research for my sci-fi nightmares post over at The Sci-Fi Cast, I came across a pretty cool die-cast collectable toy that I just had to have. The piece was a 12″ replica of my favorite space ship from Gerry Anderson's Space: 1999. It had received good reviews on a blog I discovered so I decided to order it. It arrived today and I couldn't be more pleased.
The toy is heavy, finely detailed and looks exactly like the models from the TV show. I've always had a special affinity for the Eagle Transporter since I was a kid and have owned several of them over the years. This just might be the best one to date. What makes it even better was the quality and professionalism of the company I ordered it through – Comet-Miniatures.com based in the UK. After I placed the order, they actually took the extra step to check and confirm it with me before shipping it out. It arrived quickly, and was packed extremely well. It also included a hand-written note along with my receipt which was something I just couldn't get over. Bravo guys, I'll be ordering from you again soon!
If you're a Space: 1999 fan like I am, then head on over to my Flickr page and check out the wonderful pictures of the toy that Talos took for me today at the office. If I had money to blow, I'd order the larger 23″ Signature Edition, but all-in-all this one really is perfect. I'm so happy!