Sweet Crusted Son of God!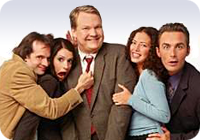 To say that Andy Richter Controls the Universe is one of my favorite shows is an understatement. The short-lived series ran for only 19 episodes and, like so many others before it, was doomed by an early FOX cancellation. Although hailed by critics as one of the funniest shows of the 2002-2003 season, the quirky sitcom starring Andy Richter, Paget Brewster and James Patrick Stuart never made it out of the starting gate. Now, after almost seven years in distribution limbo, my favorite sitcom is finally coming to DVD.
I fell in love with ARCTU some time after it's initial broadcast and scrounged up every single episode I could find on "the tubes". Now TVShowsOnDVD.com reports that Andy Richter and his office pals will be coming to a DVD player near you on March 24th. No word yet on pricing or DVD extras, but that doesn't matter, this show's proof is in the pudding. Corey and I are genuine ARCTU fanatics and can quote more lines of dialog than we care to admit. There are so many awesome episodes it's difficult to pick a favorite, but if you twisted my arm hard enough Richter's reunion with Conan O'Brien in Crazy in Rio would be at the top of the list.
If you've never had the opportunity to check out Andy Richter Controls the Universe, pick up a copy on sale this March. With an unforgettable blend of snarky writing and impeccable casting, ARCTU is one purchase you won't regret.