For Wii, Fun Trumps Flash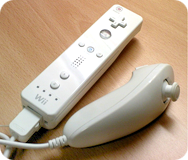 Video games are supposed to be fun. Any game's primary purpose is to engage and entertain in ways that are new, exciting and challenging. Which is why early calls from critics and fan boys alike that the Nintendo Wii console was just a passing "fad" were out of their depth. The argument went that since the Wii didn't have the horsepower, graphics or true HD support that the XBOX 360 or Playstation 3 had, it was doomed to failure.
In September of 2007, the Nintendo Wii surpassed sales of both its rivals and has never looked back. This year the Wii weathered its second holiday season with flying colors. According to VG Chartz the Wii sold an incredible 1.7 million units the week before Christmas. By comparison, Microsoft's XBOX 360 sold 535,806 units and SONY's struggling PlayStation 3 sold a mere 239,576. VG states that when December is done, Nintendo will have sold more than 3 million Wii's for the month, an astounding number especially considering the current economy.
It is certainly true that most fads enter the market in a blaze of glory and then promptly burn themselves out. However, they also rarely have direct competition from similar products. Fans never had to consider "My Pet Log" when running out to the store to own their first "Pet Rock". Fads are unique and unpredictable and by their very nature, a flash in the pan. From the very beginning, the Nintendo Wii was designed to be the very opposite of a fad.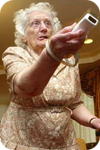 From the Wii's conception, Nintendo's game designer Shigeru Miyamoto said the console was not about graphics or frame rates, but user interaction. He wanted to make a new way for players of all ages to interface with video games, and he succeeded. Unlike the XBOX or PS3, the Wii was the first video game platform that appealed to adults in large numbers. The Wii has become hugely successful in retirement homes where seniors play endless hours of Wii Bowling and even tone their aging muscles with Wii Fit. Hard core gamers can't stand this aspect of the Wii. PS3 and XBOX fan boys argue that any console granny plays isn't a "real" system, and is only geared for kids and old people. Somehow they say this with a straight face while SONY & Microsoft blatantly copy the parts of the Wii that people love like motion sensors and customizable player avatars.
Will the Nintendo Wii manage to stay off the competition for yet another Christmas? If I was a betting guy, my money would definitely be on Miyamoto and not Ballmer. That being said, eventually the Wii's unique game play will lose its novelty and the console's sales will slow. But rest assured, Nintendo has plans for the Wii's successor that takes all the best parts and improves the rest. Nintendo didn't become the giant of the video game world it is today by following others, Miyamoto and company had the vision to lead. They skillfully knew what the rest of the industry is only now figuring out – frame rates and flop cycles will only get you so far, but fun lasts forever.