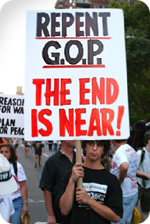 You'd think that after the pasting they received in November, the GOP would be busy figuring out why they are so out of touch with the American people. Of course, you'd be wrong. Apparently Republicans are interested in alienating even more of the country as they insist on playing to the hard base.
Witness the arrogant and bigoted tone of one RNC Chair candidate, Chip Saltsman. Saltsman sent out copies of a song entitled "Barack the Magic Negro" as part of his Christmas greeting. The song, originally publicized by Rush Limbaugh earlier this year, came under fire from the media and anyone with a brain for its racist overtones. Somehow Saltsman saw fit to make the tune part of his holiday message. All this with less than 30 day to go until the inauguration of Barack Obama as the 44th President of the United States. To top it off, in the 20+ hours since this story first broke, only one high-ranking Republican has condemned Saltsman's actions. Just one.
If the GOP has any hope of regaining the respect it lost over the past eight years, they must begin by pulling their heads out of their collective asses. It's bad enough making a joke by calling someone a "magic negro", but when that person is the next President of the United States and you actually defend said remarks, you deserve huge helpings of ridicule and scorn.
Sadly, this is yet more evidence that the right has no interest in doing what's best for the country. Until this dipstick stunt, the prime example of the GOP's pandering attitude was McCain pulling Palin out of obscurity as his running mate. Saltsman's actions flow from the natural progression of this costly strategy and I for one hope they keep it up. Their foolish bravado is laying the foundation for a long-term Democratic majority the right hasn't seen in decades. Saltsman says his song was "just a joke", but the really funny part is the joke's on him.
UPDATE: Peter Yarrow, one of the artists behind "Puff the Magic Dragon", speaks out on the whole affair and hits the nail right on the head. He writes "Obama is not a candidate. He is the President-Elect, and this song insults the office of the Presidency, the people who voted for him, as well as those who did not — and taking a children's song and twisting it in such vulgar, mean-spirited way, is a slur to our entire country and our common agreement to move beyond racism."
UPDATE II: Simon Rosenberg, head of the Democratic organization NDN, is quoted in a recent Huffington Post piece as saying the GOP just don't get it. "The core play in the GOP playbook for 44 years has been the magic negro playbook, whether it is Willie Horton, or welfare queens and tax and spend, or the way they have dealt with immigration… they don't have a play in their playbook that doesn't start with the exploitation of racial divisions. They are going to have to reject 44 years of GOP politics in order to have any chance in the 21st century America."