For the Geek Who Has Everything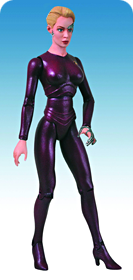 While I was surfing around looking for some last minute Christmas presents, I came across a little piece of Star Trek heaven. This new Seven of Nine 7″ figure, sculpted by Rudy Garcia is just one in a set but it's a pretty good likeness and who wouldn't want a little Seven on their desk? The clincher however is the incredible marketing text that accompanies the item:
"Seven of Nine's grimly pallid countenance is moderately contradicted by the voluptuousness with which she occupies her form-fitting sculptured chassis."
Sold and sold! I think "form-fitting sculptured chassis" is the most elaborate way I've ever heard someone say "nice rack!". If you have a Trek fan on your Christmas list, this might be just the thing the holographic doctor ordered. Then again at this late stage in the game you'll probably need a temporal anomaly to get it to your doorstep on time. Oh well, there's always next year!