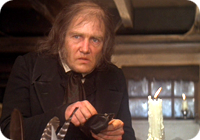 Ask any person what's their favorite adaptation of A Christmas Carol, and you never know what they'll say. There have been so many versions of the classic tale over the years, it's daunting to pick a single version. I suspect that for most people, their favorite is the one they were introduced to as a child.
Without a doubt, my favorite version of Charles Dickens' A Christmas Carol is the 1970 musical adaptation, Scrooge starring Albert Finney, Kenneth More and Alec Guinness. Produced by the same team that gave the world Oliver!, Scrooge is perhaps the liveliest version of the story I've ever known, and for my money the most satisfying. It features a memorable array of songs, strong acting and a large, energetic cast that gives the film the feeling of a broadway production.
Although the film never won any Oscars, Albert Finney did win a Golden Globe in 1971 for Best Actor in a musical or comedy. Finney is the heart and soul of Scrooge and manages to make us both despise and love the character simultaneously. From our glimpses into his past as an abandoned boy, to the heartbreaking loss of his finance Isabel Fezziwig, Finney's Scrooge is a real person, with a host of dreams squandered in the pursuit of wealth.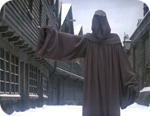 When Scrooge's transformation finally arrives at the end of the second act, it's made all the more believable thanks to Finney's incredible depth as an actor. As Ebenezer awakens at the foot of his bed to learn he has been given a second chance, Finney performs the moving "I'll Begin Again" and makes us actually believe he has changed for the better.
Too many adaptations spend hardly any time after Scrooge turns from the dark side. I enjoyed the George C. Scott version of A Christmas Carol, but the end is very short and just doesn't give you that "It's a Wonderful Life" feeling that the end of Scrooge does. All this, combined with some of the most beloved holiday songs from composer Leslie Bricusse, add up to one of my all-time Christmas favorites. Since the soundtrack has never been released on anything other than vinyl, I've spent the last few Christmases making my own by digitizing and editing the audio from the DVD release. If you're interested in getting a copy of it, drop me a line and let me know. I'll be happy to share my efforts with you.
What version of A Christmas Carol is your favorite? Patrick Stewart's performance? Bill Murray in Scrooged? Don't forget Mr. Magoo's Christmas Carol! Don't be a humbug, drop a note in the comments and share your memories with the rest of us. Merry Christmas everyone!