It's Sarah Palin's World. John McCain is Just Living In It.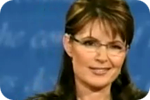 The cracks started to show several weeks ago when Palin disagreed with the McCain's idea to pull out of Michigan. The cracks grew into fractures when it was reported that the campaign spent some $150,000 of GOP donor money on clothes and makeup treatments for Palin and her family so they could "look good" during the run up to the election. Accusations flew, and some within the McCain camp started leaking nasty things about Sarah to the press. "She's gone rogue" said one advisor. Then this week came the infamous "whack job" comment. Now from ABC news comes the icing on the chilly cake that is the Palin/McCain campaign. Sarah's ready for 2012!
"Gov. Sarah Palin suggested that if the Republican ticket is defeated on Tuesday she expects to be a player in the next election four years from now, saying "I'm not doing this for naught."
In an interview with ABC News' Elizabeth Vargas, the Republican vice-presidential nominee was asked about 2012, whether she was discouraged by the daily attacks on the campaign trail, and would instead pack it in and return to her home state of Alaska.
"I think that, if I were to give up and wave a white flag of surrender against some of the political shots that we've taken, that would bring this whole & I'm not doing this for naught," Palin said."
It seems that someone has a taste for their new found, conservative popularity. It would be a shame for all that stumping to go to waste if and when McCain loses. So Sarah seems to be hedging her bets for the next go around four years from now. The fact that she's talking about 2012 six days before the 2008 election is nothing less than stunning. If I was John McCain, I'd be positively livid, but all things being equal it serves him right. This is what McCain gets when he listens to the likes of mr-thinks-he-knows-everything-but-really-knows-nothing Bill Kristol. Palin is turning out to be the single best thing Kristol's ever done for the left in his long and illustrious career of being completely and utterly wrong. You betcha!