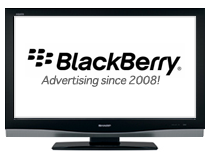 There are very few surprises left in the world, so when something outside my experience comes along, I prick up and take notice. Lately the shock of the new comes in the form of commercials from Research In Motion (RIM), makers of the BlackBerry line of smart phones.
Before April of 2008, RIM never saw fit to advertise its products or services to the general public, instead relying on its core business of Enterprise users to carry them to profitability. Despite calls from BlackBerry surrogates to build brand awareness, RIM was content to go about their business confident that nothing could erode their firmly entrenced army of "CrackBerry addicts".
Then came the iPhone.
When the iPhone was released in June of 2007, RIM CEO Jim Balsillie shrugged off Apple's entry and denounced the iPhone as a light-weight consumer device that would have little, if any effect on their core business market. At first this might have been true, but as the success of the iPhone grew and owning a smart phone became "cool", even Research In Motion could see the writing on the wall.
In June 2008 Apple released the second generation iPhone, the 3G and again the media reported that RIM "wasn't worried" about the iPhone. Deon Liebenberg, regional director for RIM actually said that the iPhone's release would be good for BlackBerry since "BlackBerry will offer a serious [Enterprise] solution that Apple can't." Strangely enough these comments came just about the time RIM aired its first consumer commercial to the public.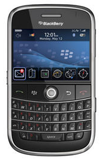 In September Research in Motion missed sales targets for the BlackBerry device despite having recently expanded their product offerings. The addition of new (and potentially confusing) models to its already complex product line includes a phone with no physical keyboard, something that Co-CEO Mike Lazaridis had publicly stated wasn't for RIM. Now come commercials that profess the BlackBerry to be more than just a tool for corporate email and Enterprise calendering. RIM wants to be hip.
In the end, all of these developments increase competition, and that is a good thing. It spurs innovation, lowers prices and gets companies like RIM and Apple off their complacent asses to develop and market better products. RIM's recent moves will hopefully spark improvements to the iPhone as well as encourage Apple to correct service problems with Mobile Me. But the next time you hear an arrogant CEO brush off Steve Jobs, Apple or the iPhone just remember to take what they say with a huge grain of techno-salt. They probably have a commercial in the wings ready to advertise the stuff they just railed against.
UPDATE: Apple released its financial information for Q3 in 2008 this week and in terms of total revenue, Apple's iPhone has outsold RIM's Blackberry handily. Not bad for a company that has only been in the smart phone market 15 months.