Sometimes you have to take a break from the big stuff and just enjoy the little things in life. For me, one of the things that gives me pleasure is spotting flubs in television and movies. Called continuity errors, they are gaffes made by the filmmakers that are antithetical to the story or the staging. Today I spotted one such error in one of my all-time favorite episodes of Star Trek: Deep Space Nine – Take Me Out To the Holosuite.
In the episode, the crew of Deep Space Nine is challenged to an old-fashion baseball game by a group of smug Vulcans. Captain Sisko spends two weeks getting his fellow crew members up-to-snuff on the Great American Pastime. At one point we see Colonel Kira coming off the field and her jersey reads "Kira". But a little later in the episode, her jersey magically changes to read "Nerys" (her birth name) and remains this way for the rest of the episode.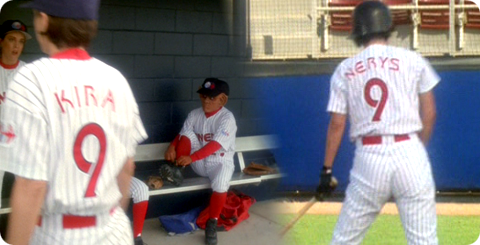 Like any die-hard Trekkie (yes, I'm a Trekkie, not a Trekker) I'm more interested in why this costuming error occurred in the first place. All the other Niners with surnames and birth names have their surname embroidered on their DS9 baseball jersey. Captain Sisko's is "B. Sisko" as opposed to "J.Sisko" which we see on Jake's back. Doctor Bashir's is simply "Bashir" as you would expect. But in the Star Trek universe, Bajorans traditionally list their family name first, then their birth name (like Asian cultures). So although Kira's character is called "Kira Nerys", Nerys is really her first name and Kira is her family name.
Given this, which jersey in the episode is the wrong one? It seems to me that the character should indeed be wearing the "Kira" jersey, and not "Nerys" that she wears for the majority of the game. Then again, they are in an informal setting and so she might have opted to use Nerys among friends. Memory Beta, one of the numerous Trek Wikis simply says "In a costuming error, Kira's uniform says "Kira" early in the game, and "Nerys" later." but it doesn't explain which is which.
Strangely enough, this is the kind of question that geeks like myself can spend all day debating, so if you're a Star Trek fan, I'd love to know which name you think should be on Kira's uniform. And if you happen to think this entire post was a waste of time, I know some friendly folks that are dying to meet you.