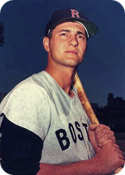 They say kids can be cruel and that's never more true than when you have an unusual name. Growing up, I knew my parents had named me after my grandfather, Gedeon Oliver Maheux. That being said, it was a little tough for me to appreciate my family heritage when neighborhood kids would call me all manor of strange and hurtful names. At some point in our lives we all get called mean things and if we're lucky, it ends up building character instead of warping our "fragile little minds".
But by the time I was seven, I disliked my name so much that when my mom and dad sent me off to 2 weeks of Catholic summer camp, I insisted they register me with my middle name of Paul instead of Gedeon. I had the brilliant idea that I would hide behind my dad's name to avoid the inevitable onslaught of ridicule that would come with a cabin full of strange, new kids. All our clothes had to have name tags sewn on them for laundry identification, so for two weeks both my clothes and I were known as "Paul Maheux". The clever charade worked great except that camp councilors thought I was going deaf since they'd call out "Paul!" and I wouldn't even so much as turn my head in response.
Then when I was eleven years old, my father took me to my first big league baseball game. Living in New Hampshire, naturally it was the Boston Red Sox I saw that fateful day in 1980. Like most children, I can easily remember the first time I emerged from the concession tunnel to see the Green Monster. Although I had played baseball a bit at school, this was the first time I can honestly say I became interested in it. I sat with my father and watched the game unfold in unassuming fashion until a strange man took the field and the place went positively nuts.
Not being familiar with the players or the history of the Red Sox, I couldn't understand why this scrawny guy was being greeted with such thunderous applause. Who was this man? What had he done to deserve this? Then the PA system blasted his name and quite literally changed my life. The announcer simply said one word as the scoreboard brightly flashed it over and over – "Yaz!". Every fan in Fenway knew him to be Carl Yastrzemski, the legendary hitter and outfielder that fans lovingly referred to as Yaz. By the time I saw him that night, his profesional career was winding down, but I didn't know that. All I knew was this man was loved and respected by thousands of people and to top it off he had a strange name, just like me.
After that fateful game, you couldn't call me Paul if you wanted to. I was proud to be called Gedeon, but my smile grew if you called me simply Ged. I realized that it wasn't a bad thing to have a unique name, in fact, just the opposite. Try a Google search for "Paul" and then one for "Gedeon" and you'll know exactly what I mean. As I grew older I wore my name with pride and thanked my parents for setting me apart from the crowd. Today, I wouldn't have it any other way and I have my family and a player named Yaz to thank for it.