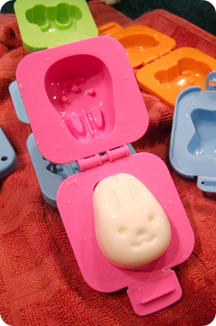 A few months ago I came across a great website called Cooking Cute. The site gives tips and tricks for creating imaginative and beautiful bento box lunches. I'm a big fan of all things Japanese and am fascinated by the level of detail and creativity on display there.
One of the typical ingredients in a Japanese bento box are hard boiled eggs, but not just any old eggs. Cooking Cute shows how to use plastic egg molds to shape your lunch into cute objects like cars, fish and stars. Turns out you can't get them in the U.S. (at least that I found) and so I turned to eBay and ordered them directly from Japan. Click the image to visit my Flickr page and see how the whole thing turned out.
The process is relatively simple and straight forward. Hard boil some eggs as you normally would, but peel them while they are still hot. This turned out to be the most difficult part. You have to get the eggs into the molds as quickly as possible, while they are still pliable. Be careful not to burn yourself! This part should definitely not be done by children. Next, stuff them into the molds and lock them shut. If there is overflow, don't worry, you actually want as much egg in the mold as possible. Next, float them in an ice water bath for about 10 minutes to set and cool them. If all goes according to plan, you'll have a cute bunny where a plain old egg used to be!
Egg molds can be great fun, especially if you have children in the house. It's a nice project that isn't nearly as messy as creating Easter Eggs. Just be sure you buy extra large, jumbo eggs. If you don't, some of the parts of the mold don't get filled and you'll end up with failed eggtemps (sorry!). Check eBay for the latest egg molds and then get ready to bring a little slice of Japan into your kitchen.