FOX 8 Profiles The Iconfactory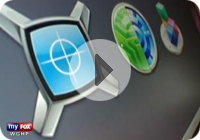 If you've ever wondered just what I do at my day job, then this awesome 2 minute profile of the Iconfactory explains it pretty darned well. We were proud to be considered for WGHP's "Made in North Carolina" series broadcast right here in the Triad. The goal of the series is to highlight companies that you may not realize are in NC, but that make things you know and use every day.
I didn't realize that Texas Pete or Crest Toothpaste were made in North Carolina, so its fun to see just what the good folks of the Tarheel state are up to. Stewart Pittman of Fox 8 came by this past Monday and interviewed us to find out more about what we do and how we got started. The resulting segment pretty much nails what goes on at the Iconfactory each and every day. Stewart said he had a blast filming our office with all our toys we have on hand to keep our creativity up, and I think that comes out in the video. If you didn't know better, you'd think we design toys instead of icons for a living. Our thanks go out to Stewart and everyone at Fox 8 for having us, we had loads of fun.
UPDATE: I've gone ahead and put up a better version of the video over at Vimeo that includes the Fox 8 intro and outro bumpers. Enjoy!