Admit it. There have been times when you've tuned into an episode of a particularly bad television show for no other reason than, shall we say, the "eye candy". Maybe you even tuned in for an entire season or more just to catch a glimpse of that certain actor or actress that made your heart go pitter patter. Thanks to yet another exchange between Twitter friends on this very subject, I'm happy to present a list of what I'm calling my top five "TV Turd Blossoms". Even though the shows that starred them were veritable train wrecks, they all made us think twice about changing the channel, which I think, was the entire point of casting them. Read on and feel free to add your own turd blossoms in the comments below.
• • •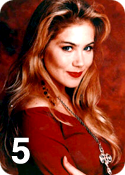 Christina Applegate
Married With Children
Fox's anti-Cosby series about the dysfunctional Bundy family was notable for several reasons. Unlike anything that had come before, Married reveled in endless lowbrow humor and sexual innuendo. It played shamelessly to the studio audience, at times almost making them a full fledged cast member. The show's humor never really appealed to me, but thanks to Christina Applegate's Kelly Bundy, I somehow managed to tune in for more than a few episodes. Christina's obvious sex appeal, combined with her sly performance as the ultimate "dumb blonde" had millions of viewers wishing she was the girl who lived next door.
• • •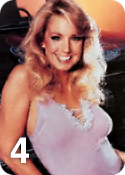 Heather Thomas
The Fall Guy
I think it's safe to say that Heather Thomas was the "hood ornament" on The Fall Guy's 4×4 big rig. The show centered around stuntman by day, bounty hunter by night, Colt Severs played by Lee Majors, and was known for pedestrian plots, glorified stunt work and Hollywood glam. You only had to watch the opening credits of The Fall Guy to get a pretty good idea why Heather Thomas was cast in the forgettable role of Jodie Banks. Typical dialog for Heather included such award winning lines as "Watch out Colt, he's got a gun!" and "I hate you Howie!". Never-the-less, Heather's California good looks, along with sales of one of the most successful posters of the 80's, help keep The Fall Guy breaking through windows and catching crooks for five full seasons.
• • •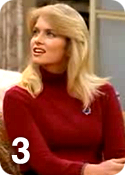 Donna Dixon
Bosom Buddies
Back before Tom Hanks was the Oscar-winning, world famous actor and producer he is today, he starred in a little sitcom (yes, that is Hanks singing the Billy Joel title track in the opening credits) about two guys pretending to be women in order to get an apartment in Manhattan. Although I was only 11 at the time, I remember the show not for the forced jokes about men in drag, or even Peter Scolari's impressive juggling skills. Nope, the thing I remember most about Bosom Buddies was Sonny Lumet, played to Marilyn Monroe-esque proportions by Donna Dixon. Unbeknownst to me, Dixon's Sonny provided the visual counterbalance for audience members uncomfortable with watching two men parading around in makeup for laughs. And although the writers took full advantage of Dixon's sex appeal, Bosom Buddies just wasn't funny enough to last beyond 2 seasons.
• • •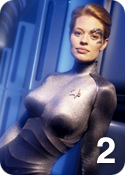 Jeri Ryan
Star Trek Voyager
By the third season of Star Trek Voyager, UPN's flagship show was starting to limp along on impulse power. The powers that be decided to axe Kes, played by Jennifer Lein, in favor of another character that has since become synonymous with TV eye candy. From the moment she first stepped onto the cargo bay in her infamous catsuit, it was clear Jeri Ryan's portrayal of Seven of Nine would blast Voyager back into warp speed. The move was decried by critics and even some cast members as blatantly sexist and an attempt to lure the young male demographic back into the Trek universe. Evidently the ploy worked as Voyager's ratings picked up, complex stories began centering on Seven's character and to her credit, Ryan strove to make the part her own. While Voyager is considered by many to be one of the weakest in the Trek franchise, it's a testament to Ryan that the series' best dramatic moments often came from the Borg once seen only as a bombshell.
• • •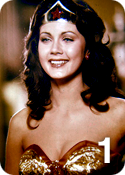 Lynda Carter
Wonder Woman
Perhaps no other role on television epitomizes the idea of a TV turd blossom as that of Lynda Carter's Wonder Woman. When the show's producers cast Carter in the title role, she had little more than a 1972 Miss World title and $25 dollars to her name. Despite some of the cheesiest plots, villains and sets this side of Paradise Island, Carter's warmth and enthusiasm for the part always shone through. When Wonder Woman moved from a World War II to modern day setting on a completely different network, Carter took the change in stride and did her best to make the show successful. To this day, not many people can remember the stories of Wonder Woman, but everyone knows who played her. Carter's beauty may have lassoed the viewers, but it was her ability to rise above the awful material that turned her into one of the most beloved heroines in TV history.
Don't forget to Digg It!