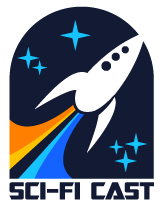 Well, we've done it again. Blogger buddies Dave Caolo, Jen Segrest and myself were joined by the insightful Krystyn Heide to discuss reaction to episode 4.2 of Battlestar Galactica and the results were a full on geek fest. Topics of discussion this time range from Buffy and Babylon 5 all the way to The Next Generation, Evangelion and lobotomizing those poor little Cylon raiders. Episode 2 of Sci-Fi Cast clocks in at 23 minutes and is available as an enhanced podcast for your listening pleasure.
Of course I'd be remiss if I didn't tell you that the podcast contains spoilers for the first two episodes of Battlestar Galactica's fourth season. If you don't want to ruin your viewing experience, best to hold off listening until you've caught up. We hope you'll join us for our ongoing geeky trek throughout this season of Galactica. Enjoy!
Download or listen to episode 2 here.