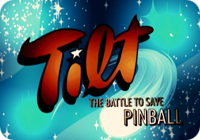 When was the last time you played a game of pinball? If you're anything like me, it's been years since you plunked quarters into one of those classic arcade contraptions. The plight of the pinball machine is one, that in today's modern world, has grown more and more familiar. What once captured the money and imagination of players across the country, has become relegated to collector's garages and played by a small group of enthusiasts who look back on pinball with fond memories through neon colored glasses. The story of pinball's origins and how one company tried to re-invent it, is being told via a new documentary written, produced and directed by my friend and designer Greg Maletic.
Tilt: The Battle to Save Pinball tells the story of the Williams company and their dedicated team of designers who were tasked with nothing less than single-handedly saving the entire pinball industry. The DVD can be ordered via the Tilt homepage, and is a wonderfully produced documentary spanning the entire history of the game. Tilt takes the viewer on a light-hearted and fascinating journey from pinball's humble beginnings as merely a game of luck, to the industry changing era of classic video games, and the creation of Pinball 2000.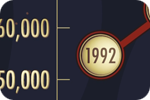 The DVD's production values are top notch and are marked by retro style graphics (all created in Adobe Illustrator and animated in After Effects), an easy to follow narrative and some of the best music I've ever heard written for a documentary by composer Skip Heller. Much more than just "talking heads", Greg's film gives special insights into the world of the penny arcade that eventually morphed into the electronic palaces of the 60's 70's & 80's that so many of us spent our childhood in. Watching Tilt, it's easy to see how much a labor of love this film has been for him. Case in point comes in a scene discussing Baby Pac Man, an unsuccessful fusion of pinball and video games. The director's audio commentary reveals he was unable to find a functioning Baby Pac Man unit to film, so he decided to animate the entire cabinet in After Effects. An impressive feat to be sure, and one that I would never have realized had I not listened to the commentary. Tilt is full of these kinds of subtle treats which bring both eye candy and visual interest to a subject that some might consider boring.
Over 2 and a half years in the making, Tilt: The Battle to Save Pinball, not only serves up an interesting slice of history, but also provides insight into problems that designers face every single day. How do you make something old and familiar, new and fresh? How do talented individuals leverage their skills to create a unique new experience even in the face of tremendous industry pressure? All of these questions, and many more are tackled in Tilt. It's a fun journey for pinball fans and lay people alike that I highly recommend. Check out the trailer available on the Tilt homepage or via YouTube.