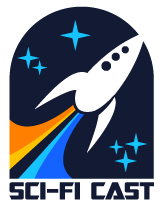 Speaking of podcasts, it seems I've taken my first steps into a larger world. Thanks to the group blog post regarding Battlestar Galactica, myself, Jen Segrest and Dave Caolo got together after the BSG season premiere and did a quick audio commentary of the episode. We're not sure if it will turn into a regular thing just yet, but it sure was fun! The podcasts lasts a mere 13 minutes (ha!) as Dave, Jen and I discuss subjects including our picks of the final cylon models, connections to the original Battlestar Galactica, and Dave's apparent fear of boxing and deep emotional turmoil.
If you've not watched the season premier of Battlestar Galactica season 4 yet, you'll want to hold off on this until you catch up. Spoilers do not a great podcast make. But if you've watched and are in the mood for three geek's views on all things sci-fi, then give it a try. I think you'll be pleasantly surprised.
Listen in a browser window here.

Download the podcast here.