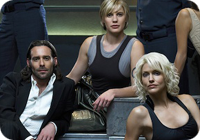 If you're a sci-fi fan then you probably know that this Friday, April 4th, marks the return of Battlestar Galactica on the Sci-Fi Channel. After almost an entire year on hiatus, fans everywhere are finally getting ready to embark on the final season of what some have called the best science fiction show on TV. I'm not sure I would go quite that far, but BSG has been great and has successfully kept me wanting more thanks to the wonderful writing, gritty realism and unique characters that Ron Moore created more than four years ago. About the only downside to BSG starting up again is that the final episode won't likely air until sometime in 2009. Yep, you heard that right, 2009.
Of course, the main puzzle on every geek's mind is who will turn out to be the final 12th cylon model. My friend Jen Segrest IM'd me the other night to get my thoughts on the matter, which I was all too happy to volunteer. After about a 20 minute debate on the topic, we decided to make a geeky bet about our predictions. She picked Roslin (and you can make your choice in the online poll I created), but for me, there can only be one choice. Over the last four years I've wavered on who was and who wasn't a Cylon, but one name keeps coming back to me – Gaius Baltar. I know you're thinking that he's too obvious a choice to be the 12th Cylon, but deep down it makes perfect sense, and here's why:
• That pesky nuclear explosion – Waaay back at the start of the Galactica mini-series, Gaius Baltar somehow managed to survive an almost ground-zero nuclear blast that not only destroyed his home, but also killed the very first Six. The scene is in the opening credits of every episode and the series has never successfully explained how Gaius managed to come through this devastation with only a single scratch on his forehead.
• Religious symbolism – More than any other character, Baltar has wrestled with the existence of "God" in the BSG universe. At times he's thought he was God's instrument, at other times he's abandoned God. Moore and the show's directors love to depict him in religious poses even going so far as to make his appearance look like that of Jesus himself. It would be fitting if Baltar turned out to be the so-called "god" of the Cylons.
• The Razor Prophecy – Consider the words of the First Hybrid from the extended DVD version of Razor: "Soon there will be four glorious new awakenings, struggling with the knowledge of their true selves, the pain of revelation bringing new clarity. And in the midst of confusion they will find that enemies are brought together by an awesome sense of belonging. Enemies now joined as one. The way forward, the once unthinkable, yet inevitable. And the fifth is still is in shadow, drawn toward the light, hungering for redemption, that will only come in the howl of terrible suffering. I can see them all – the seven, now six, self-described machines who believe themselves are of no sin, but in time it is sin that will consume them. They will know enmity, bitterness, the wrenching agony of the one splintering into many. And then they will join the promised land, gathered on the wings of an angel. Not an end, but a beginning." Hat tip to Brad Templeton for this.
• He fills "the big shoes" – Some fans have speculated that the final model will be Dualla or Gaeta, or even Doc Cottle, but none of these characters have what it takes to make the final reveal dramatic enough for Ron Moore. No, the only characters that would fullfill those requirements are Adama, Roslin, Baltar and possibly either Starbuck or Cain.
At this point I don't see it being Starbuck because we've already been there and done that. Moore also loves the Roslin character too much to make her a Cylon, and if Adama was a Cylon, then his children would be too and we'd have more than 12 models. We're left with either Baltar or Cain. There are aspects to Cain's character that makes her a good choice, but Baltar, IMHO trumps her dramatically.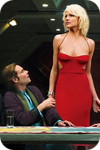 You might have seen the infamous "Galactica Last Supper" put out last month. The image supposedly contains visual clues as to who the final Cylon is for those smart enough to decipher it. Entertainment Weekly says they've figured out that the final Cylon is the "missing figure" in between Tigh and Lee, and suspiciously Moore agrees with this assessment. The problem is I don't believe a single word that comes out of Ron Moore's mouth any more. As I learned with the "Starbuck is dead" meme that Moore spread in interviews and podcasts last year, his word counts for nothing, especially when his job is to keep us all guessing. Therefore I don't believe EW when they say the final Cylon is not in the picture. They're acting as a conduit for Ron Moore's misdirection, pure and simple.
In the world of Battlestar Galactica, drama rules the day. Edwards James Olmos has said that the final season of BSG will be "hard to take", a thought recently confirmed by Katee Sackoff. Will this lead to unpredictable plot twists and upset fans? Oh yes, and I think that's what has made BSG such a popular show. You never know where it will take you next. Will Baltar be the final Cylon? My gut says yes, but even if he isn't, I'm sure we're all in for one hell of a ride. I just hope I don't have to wait a year to find out if I've won this friendly blogger's bet.
UPDATE: My friend and fellow blogger Dave Caolo chimes in with his thoughts about the final Cylon model. I won't spoil it for you, you'll have to go read it yourself. I love this line from his post: "…models like Number 6, Sharon, Lucy Lawless and the dude from Quantum Leap." Man, he cracks me up!