Solving Airport's Mystery Dropouts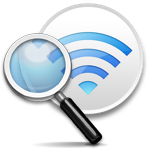 Ever since Christmas of 2007, I've had a problem. Sudden, seemingly random Airport signal dropouts. These frustrating gaps can last anywhere from a few seconds to minutes or even hours. When this happens, the internet connection in our second story bonus room is lost completely. Sometimes it comes back on its own but lately we've had to turn Airport off and then on again to re-acquire the wi-fi signal. The problem has been so bad that I've even considered calling an electrician to hard wire the bonus room for CAT-5 cable. A costly and extreme solution to be sure. After two solid months of vexing investigation, I think I've solved the mystery. If you've been experiencing sudden wi-fi dropouts on your airport enabled Mac, read on.
The Usual Suspects
I've been reading about Leopard wi-fi problems for weeks but since our Macbook Pro is still running Tiger, these reports didn't make sense. Perhaps it was one of the three Airport base stations we have in our home. The Airport Extreme in our home office acts as the router, and there is a second Extreme in the upstairs bonus room itself. When we first moved into the house four years ago, I set up an Airport network with an original UFO base station and an Airport Express in the hallway of the second floor. This served well for years, and when the new Airport Extremes were released, we upgraded but left the Express to boost signal.
All seemed fine until around Christmas when the dropouts started. At first I thought it was a hardware failure and tried swapping the Extremes, changing their location in our home, altering the configuration of the network from b/g compatible to just g, then to n. I tried closing the network, removing the Express completely, etc, etc. Despite all of this, the network dropouts persisted.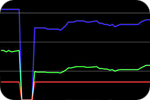 Next I tried removing the other Wi-Fi enabled devices in our home. Through a process of elimination I removed our Nintendo Wii, my wi-fi enabled iPhone and even my TiVO from the Airport network. I had suspected the TiVO for a long time since the dropouts seemed to come at set 5 or 6 hour intervals (when the TiVO was downloading program info?) and was disheartened to discover that after dissconnecting the TiVO for a full 2 days, drop outs were still the rule and not the exception.
A Break In the Case
The clue to the solution came when I made the connection between when the problems started and the time of year. I said earlier that the dropouts began shortly after Christmas of 2007, just when other families in the neighborhood would be getting wireless routers and hooking them up. Further clues were provided by my friend Craig Hockenberry that told me he has had similar problems due to interference from his neighbors. From Craig's home, some 12-18 wireless networks are available. Being at the end of a dead-end street, I always assumed we were pretty isolated from interference from other networks. When we first moved in, my Airport network was alone in the neighborhood. But sure enough, a quick check with AP Grapher this week revealed between 6-8 other wi-fi networks. After a walk around the development, and chatting with neighbors, I was able to create a rough map of the wireless networks that surround our home.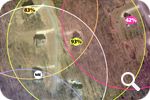 Advances in 802.11 technology have dramatically increased the strength and range of home wi-fi networks. Unfortunately this also increases the potential for interference from one source to the next. You can see in the map to the right that although the house in pink is hundreds of feet away from mine, I still get a 42% signal from their wi-fi router. Craig turned me onto a few articles that talk about potential interference from sources like cordless 2.4 GHz phones, microwaves and especially other 802.11 devices. Suspecting one of these was the culprit, I watched AP Grapher like a hawk and noticed that our Airport channel would sometimes overlap those of our neighbors. When this happened, sure enough, a dropout occurred. In Mac OS X, I have Airport set to select channels automatically, and this turned out to be the root of the problem.
Book 'em Dano!
When Airport is set to automatic, it quickly "scans" across the entire channel range and selects the one with the least interference to use. At the time of the scan, channel 11 may be relatively clear and so all is well. If however, a competing wi-fi network on the same channel turns on, or increases signal strength due to atmospheric conditions, that channel becomes cluttered with radio noise. The protocol for 802.11 is designed in such a way that when this happens, base stations can hold off broadcasting until the interfering signal goes completely away, which could be minutes, hours, or even days. This also accounts for the apparent randomness of the original problem.
Thanks to AP Grapher/Scanner, I can easily see the channels that all my neighbors are using for their networks. Since most wireless routers are set to channel 6 out of the box, avoiding this channel as well as two channels to either side is best. I've now set our Airport network to broadcast on channel 9 and I'm very pleased to report that so far, the dropouts that have plagued us low these many weeks, have ended. If you are able to manually set your wireless network channel to something that avoids the channels of those around you, this should do the trick. I foresee a time in the very near future however when the 11 channels currently used by wi-fi in the United States just won't be enough. Hopefully, refinements in 802.11 technology (or something completely new) will stay one step ahead of the problem and keep us all up and running. Case closed baby!