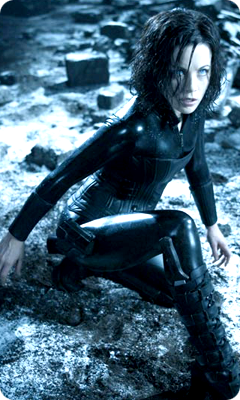 News out of Hollywood today that Kate Beckinsale won't be returning to star in the next Underworld film titled Underworld: Rise of the Lycans due next year. This one is an origins story centered on the centuries-old feud between the the race of aristocratic vampires known as Death Dealers, and their onetime slaves, the Lycans.
Beckinsale revealed today on a press junket for her new film Snow Angels, that she won't be returning to don the leather and corset that helped make her famous. She did however say that one day she might pull a "Bruce Willis" and return to the character of Selene when she's 50. I think I speak for all the geeks out there when I say, "Come on Kate, hit just one more for the team!". I'm not ashamed to admit the only reason why I eventually watched Underworld: Evolution was because of you-know-who.
The producers have chosen actress Rhona Mitra to replace Beckinsale, but is there really a point? I mean, Mitra may be pretty, and maybe, just maybe she can act, but she's no Kate Beckinsale. I might be beating a dead vamp, but given the way the box office returns have been sinking for the franchise, I'd think they'd pay Beckinsale whatever she wanted to squeeze into her Death Dealer garb and kick some fuzzy werewolf ass just one more time. Oh well. As they say, all good fangs must come to an end.