More Than I Needed to Know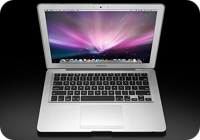 Being the huge Apple fan boy that I am, I live for Steve Jobs' keynote speeches. Like millions of other devoted Mac users, seeing Steve take the stage and throttle up the Reality Distortion Field is a special pleasure. There's something about the man that makes you believe in miracles. Call it charisma, call it vision, but whatever it is, he's got it and Bill Gates doesn't. As much as I love Steve's keynotes, I love surprises even more. Sadly, thanks to the ever present leaks, educated guesses and prognostications of the Macintosh community, this year's Macworld keynote was almost 100% devoid of surprises.
As all of us at the Iconfactory huddled around the Macbook Pro to watch MacRumors' live keynote feed earlier today, I started to get a sinking feeling in the pit of my stomach. Point after point in Steve's address seemed like old hat. Corey even managed to guess several of the next words out of Steve's mouth before he spoke them. Apple TV, check. iTunes movie rentals, check. iPhone firmware update, check. Macbook Air subnotebook computer, check. Check!?
If you paid attention to the Mac sites late last week and over the weekend, then you probably knew the Macbook Air was coming, as did iTunes movie rentals and all the rest too. About the only thing in the entire keynote that was a surprise was Time Capsule and the fact that all the major movie studios were on board for rentals. While I'm very impressed with just about everything Apple announced today, I felt disheartened that I already knew most of it. It totally took the fun out of the keynote and dampened my spirits as everything was laid bare. John Gruber's prediction piece right before the keynote was so accurate, I was actually sorry I read it after Steve left the stage.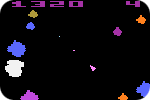 Growing up, one time while my parents were out, I carefully unwrapped a few of my Christmas presents to get a sneak peek. I was quite proud of myself when I even managed to play a copy of Asteroids for the Atari 2600 and then successfully re-wrap it without my mother so much as suspecting anything. It felt great to blast chunks of pixelated rock days early, but faking my surprise on Christmas morning ended up taking all the fun out of it. Given how I felt watching today's keynote, I think for next year I'll leave the presents wrapped and my rumor web surfing habits under the tree where they belong.