Mythbusters Minus the Good Stuff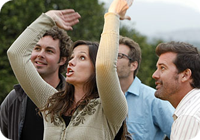 Take one super successful TV show and mix in greedy network executives. Next, assume your audience has the collective IQ of a school of goldfish, add some big explosions, plus a cute, "geeky" female co-star and you have The Discovery Channel's latest attempt at lighting in a bottle – Smash Lab. Think of it as Mythbusters minus all the things that makes the show great like science, likable cast members, humor & having a point. Only after watching the first episode online did I start to appreciate what the executives at Discovery are trying to force feed their viewers.
Smash Lab premieres this Wed., Jan. 16th at 10pm on The Discovery Channel and I can't remember the last time a network so blatantly ripped off its own property. Unlike Mythbusters where Jamie, Adam and crew propose common fallacies or myths and then set out to either prove or disprove them, Smash Lab's main purpose seems to be blowing stuff up just for the fun of it. They've couched the premise of the show as "picking apart tech and piecing it back together for new and better uses", but don't let that fool you. Smash Lab producers obviously needed a science angle to justify the show's obvious parallel to Mythbusters. But judging from the harsh comments on the Smash Lab blog about the lack of science and shamless product tie-ins, they've even managed to screw that up.
The thing that bothers me most about Smash Lab is that the people at The Discovery Channel must think Mythbusters fans will lap up anything, as long as it has C4 strapped to it. Sure, I howled when Adam and Jamie packed 2 tons of high explosive into a cement mixer and basted it into a million little pieces. I loved seeing a hot water heater become a ticking time bomb, and I went ga-ga over rocket powered cars. Despite all this, I have no plans to tune into Smash Lab.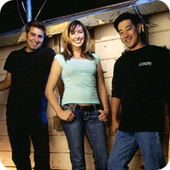 Adam and Jamie were the first, and the best at what they do. Along the way they somehow managed to pick up Tori, Kari and Grant, three of the funniest, smartest and most resourceful sidekicks any TV host could ask for. If Discovery wanted a Mythbusters spin-off, they should have given this terrific trio their own show and let Adam and Jamie fill the ranks with the fabled Mythterns. This new show seems like a giant end run around the Mythbusters, whom I've watched loyally now for over five years. I'm sure the suits at The Discovery Channel hope Smash Lab will launch to the stratosphere, but I have to say, I'm hoping it'll just sit and explode on the pad.