JibJab Does 2007 Up Right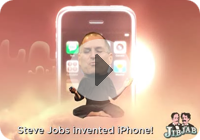 Okay, just one more year end retrospective and then we'll get on with the business of 2008. The folks over at JibJab have been hit or miss lately with their online videos, but their "In 2007" entry is one for the books. Love the "OJ took his crap back" and of course "Steve Jobs invented the iPhone". Bravo guys, well done!
Hat tip to Jen Segrest for this one!