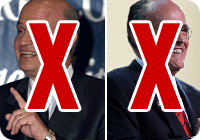 Despite what some local Greensboro blowhards would have liked for us to believe, Rudy Giuliani was never considered by any on the left to be "unbeatable". From the moment he announced his candidacy it was doomed, and with good reason. The man stood on the backs of the heroic victims of September 11th, 2001 like some deranged kid playing king of the hill. He used fear as a weapon to glean votes and did so while having a very public affair with his wife. He used taxpayer money and the services of the NYPD to escort his mistress around New York, and was in bed with Bernie Kerik, one of the slimiest goons this side of the Sopranos. He spent more time at Yankees games than at Ground Zero and insisted on putting the Anti-terrorism command center in the one building where it didn't belong.
His utter defeat in the one state he concentrated his pathetic campaign, namely Florida, is laid bare as a thorough rebuke of Giuliani the man. The more they saw of this moral waif, the less they liked. About the only thing that feels better than Rudy being literally shoved out of the race, is knowing that it all happened despite FOX News and Roger Ailes' best efforts. "America's Mayor" received more free air time on FOX than any other GOP runner, and was openly endorsed by Sean Hannity and Roger Ailes himself. How very frustrating it must be for them to see the one man they were trying to usher into the Oval Office, humiliated and rejected by the very same seniors that make their top ratings earner, Bill O'Reilly, such a star. Fancy that.
And so, we bid a fond farewell to the less-respected half of the "Frudy" team once and for all. Neither Fred Thompson nor Rudy Giuliani ever had a prayer, but it was still fun watching all those right-wingers boast and flap about for them for the better part of a year. I think I'll miss that part the most. Good times.