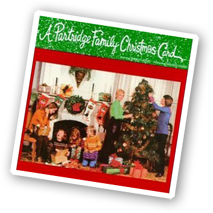 When I was a child, one of my very favorite Christmas albums was A Partridge Family Christmas Card. My mom bought it for me when I was five and I just loved it to death. Even now, I can remember lying on the floor of my room and listening to that LP over and over. I always imagined that the Partridge kids were singing their jazzy carols to me and my family.
Every year at Christmas I load up the iPod with my copy of this album and listen to it when I'm out and about Christmas shopping, or just commuting to and from work. Mindy looks at me like I'm crazy whenever these songs come on our car stereo, and in a small way I don't really blame her. By today's standards, the tracks are somewhat cheesy and overly sentimental. She grins and bears the dulcet tones of David Cassidy crooning "Frosty the Snowman" because she knows how much it means to me.
When we're kids, we never know what kinds of memories are going to stick with us throughout our lives. For me, A Partridge Family Christmas Card is an album that instantly takes me back to the home, and Christmases of my youth. I don't think there could ever be a better present than one that helps keep you young at heart, and for that, I am grateful. So taking a cue from the Partridge clan, here is my Christmas wish to you:
"To you and all your family, your neighbors and your friends, may all your days be happy with a joy that never ends. May peace and love surround you at Christmas time and all the whole year through."
I wish you and all of yours a joyous and peaceful holiday season. Merry Christmas!