Boyhood Crush Confessions
We all go through it. That time in our young lives when suddenly members of the opposite sex aren't so "icky", and are actually kinda neat. We develop crushes on those we see around us, and like so many boys my age, many of my first crushes came from television. Inspired by a series of tweets between friends, I give you the confessions of my first infatuations. I'm willing to bet that if you were a boy growing up in the 70's and 80's, then at least one of these leading ladies made your heart go pitter-patter too.
Being a geek, I grew up watching lots of sci-fi stuff, and as such, you may notice some running themes. There always seemed to be lots of cute girls who were getting lost in space or saving the universe. Needless to say I was doomed from the get-go. I hope you enjoy this tiny peek inside my psyche and don't forget to visit the other bloggers who had the courage to take the crush plunge. A list of their favorites follows. Enjoy!
• • •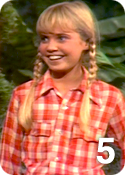 Kathy Coleman
as Holly Marshall
Those pigtails! That plaid shirt! Who could resist this darling tomboy who fell with her family through a dimensional warp and wound up "In the laaaaand of the lost, lost, lost!"? Kathy Coleman as Holly Marshall was the very first girl I think I fell in love with. She was always getting into trouble with those scary Sleestack but still somehow managed to cook dinner for her lame brother Will and pseudo-scientist father Rick. Holly was just the kind of girl I wished lived next door… if she wasn't stuck in a parallel dimension. A few years back I bought the season 1 DVD of Land of the Lost and when I grabbed the screen caps for this post, the back of the box even proclaimed Kathy Coleman to be "many a young boy's first crush". I guess I was in good, and numerous company.
• • •
Angela Cartwright
as Penny Robinson
Forget Judy, the older, blonder sister that everybody else went ga-ga over. Penny Robinson, played by Angela Cartwright for three seasons on Lost in Space, was the thinking boy's girl Friday. Penny had it all, an annoying genius brother, a cool pet space-monkey named Debbie and a tendency to wear clothes made out of tinfoil. Unlike Holly Marshall though, Penny seemed to be firmly stuck in the awkward role of "middle child". Not as young and adventurous as Will, and not as mature and good looking as Judy, Penny often got overlooked in Lost's story lines. I always looked forward to the rare episodes involving Penny and her inevitable "damsel in distress" moments that were usually caused by Dr. Smith. You may remember Angela Cartwright from her memorable role as Brigitta von Trapp in The Sound of Music, but she'll always be Penny Robinson to me.
• • •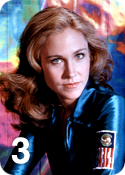 Erin Gray
as Col. Wilma Deering
Holy cow! If ever there was a TV character that jump started boys into puberty, it was Colonel Wilma Deering, played by Erin Gray from Buck Rogers in the 25th Century. I was just 11 when this show started airing on NBC, but by the time it was cancelled three seasons later, I swear I was 18. Wilma's infamous satin costumes were an obvious ploy to lure male viewers, and judging from my inability to remember much other than Erin Gray and Twiki, I'd say it worked. You have to give credit to Gray for playing the role with such strength and grace, despite the shiny blue and purple fan service the producers served up week to week. Amazingly enough, Gray's appeal was even strong enough to lure legions of viewers to the comedic train wreck that was Silver Spoons. She was also in the final running for the role of Captain Janeway on Star Trek Voyager, which had another satin clad beauty you may remember.
• • •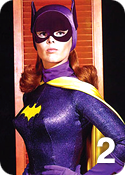 Yvonne Craig
as Barbara Gordon / Batgirl
Brought in to raise sinking ratings, the character of Batgirl, played with enthusiastic crime fighting vigor by Yvonne Craig, stole my heart from the get go. I'm not sure if it was the flowing red hair under that super cool bat cowl, or the secret Batcycle she had stored in her one bedroom apartment, but Barbara Gordon drove me Batcrazy. Craig's portrayal of the hero gave girls a new, strong role model and gave boys, like myself, heartaches for years to come. Batgirl always seemed to be getting into trouble too, which was just fine with me. I remember watching the episode where Batman and Robin get tied up into a Siamese human knot with Batgirl and thinking "What a great way to die!" Holy "involuntary muscular contractions" Batman!
• • •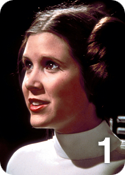 Carrie Fisher
as Princess Leia Organa
Don't try and deny it, you probably had a crush on Princess Leia too. Who didn't for God's sake? How could we help it anyway? The character of Leia Organa came bursting off the screen in 1977's mega-hit Star Wars and young boy's lives would never be the same. Ask most guys what comes to mind when they think of Princess Leia and they'll probably say "Bikini Leia!" but Carrie Fisher had me swooning long before ROTJ. You gotta love a woman who orders the likes of Han Solo around and exclaims "Would someone please get this walking carpet out of my way?". She even somehow managed to project authority while having two cinnamon buns strapped to her noggin. About the only thing wrong with Leia was her tendency to go for scoundrels instead of the squeaky clean farmer type boys. You could say that I fell squarely into the latter category, and so our "love" was doomed from the start. Then again, that's probably a good thing since I would have turned out to be her brother. Yuck!!
Check out these blogger's childhood crushes:
• Living In the now
• Kaylow
• Cocoia Blog
• nergalicious
• Momisodes
• Russian Mafia Babe
Don't forget to Digg It!