Dustin Pedroia for President!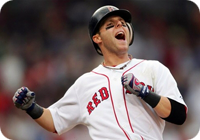 I'm taking a cue from Dan Cederholm and putting my vote behind the man who should be the American League Rookie of the Year, Dustin Pedroia. The 2007 Red Sox are heading to the World Series against the Colorado Rockies, and it is in no small part thanks to the efforts of this scrappy little guy. To be totally honest, I'd like to nominate the entire darned team, because right now I'd follow them anywhere.
After loosing three straight games to the Cleveland Indians, I really thought the Sox were done for. My faith had been shaken before and I should have learned my lesson, but thankfully guys with names like Lowell, Ellsbury, Youkilis, Beckett and Drew sent me to detention, stepped up and won the ALCS. After the first three games there was so much talk about Manny and Big Pappi and how they had carried the team, even I was starting to think these two sluggers were on their own. How wrong we all were. J.D. Drew's grand slam in the first inning of game 6 set the tone for the next 18 innings as time after time hitters other than Ramirez and Ortiz drove in the runs. Tonight's RBI's by Pedroia, Youkilis and others have cemented the notion that this year's Red Sox are not a fluke. They are the real deal, working together as a team, and I can't wait to see what happens against the Rockies.
As a side note, anyone who says that Twitter is useless or "doesn't get it" should add some friends who follow the same sports team as they do. I've found nothing more enjoyable than reading tweets from fellow Red Sox nation fans during these post-season games. It's not quite as good as actually being in Fenway, but it does allow for shared celebration, commentary and emotional support like nothing I've ever experienced. Thanks go out to all those Sox fans tweeting along at home, you've been wonderful. Next stop, a little thing called the World Series. Come on down Denver!
UPDATE: Well, he may be too young to take over as President, but this week (11/13/07) Dustin Pedroia was awarded the American League Rookie of the Year. Congratulations Dustin, you really did make a huge difference this year. We're all proud of you!