Since Halloween is my favorite time of year, and Dave Caolo was looking for something spooky to watch, I thought I would carve up my very own top five horror movies. Maybe some of these are on your list of frightening favorites, maybe not. Either way, always remember to look behind you and have a happy Halloween!
• • •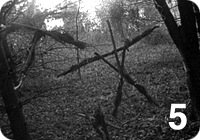 The Blair Witch Project (1999)
What do you get when you combine clever film making, our innate fear of the woods and a brilliant marketing campaign? You get perhaps one of the least appreciated horror flicks of modern times. The Blair Witch Project was made on a shoestring budget and employed improvisational techniques to effectively paint the picture of a student documentary gone horribly wrong. Sadly, the film has been lampooned so many times it's difficult to take it seriously these days. Never-the-less, it does have moments that will scare the living piss out of you. I especially love the scene when they stumble on the grotto. Who knew arts and crafts could be so scary? The film makers do a great job of turning location into a character in the story. The woods are dark, confusing and claustrophobic and play on our very real fear of getting lost in the forrest. Despite the iconic booger-in-the-nose scene and some weak acting, I still say the ending is one of scariest you'll ever see on film.
• • •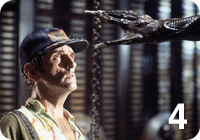 Alien (1979)
Essentially a futuristic "haunted house" movie, Alien is to some, the quintessential horror flick. From the moment we set down on LV-426, we know there is going to be trouble. The crew of the Nostromo seems more interested in turning a profit than responding to a supposed distress call. The next thing you know, John Hurt has a face-hugger shoving an alien embryo down this throat and the whole mission goes to pot. Director Ridley Scott does a masterful job of showing just bits and pieces of the alien, proving the adage that it's not what you see, but rather what you don't see, that'll scare you silly. We watch the crew get picked off one by one, until only Ellen Ripley and her cat Jones are left. The climatic scene in the Nostromo's shuttle is hair raising, but the part that creeps me out the most is Dallas' demise in the air vent. Giger's nightmarish creature seems to pop out of nowhere, creating one of the best "gotcha!" moments of any horror flick.
• • •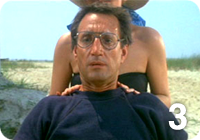 Jaws (1975)
What can you say about a movie that made an entire generation afraid to go swimming? The success of Jaws stems from our instinctual fear of things we can't see. When we wander into the ocean, we know there are all kinds of creatures swimming down there just below our feet. Some of those beasties are nice, and some are not so nice. Despite the technical hurdles of making Bruce the shark believable, director Steven Spielberg manages to pull the entire premise off with shocking perfection. From floating eyeballs and crushed shark cages to Quint get chopped up into little fish food, Jaws is one heart pounding thrill ride that bites down hard and never lets go.
• • •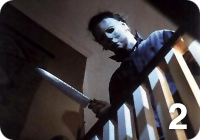 Halloween (1978)
Forget Jason Vorhees and Freddy Kruger. Before either one of these wanna-be psychos sidled onto the scene, there was John Carpenter's Michael Myers. Myers was a honest-to-goodness lunatic who spent 15 years in a mental hospital after killing his older sister. Now he's escaped and off to conduct a repeat performance on his younger sister, played by Jamie Lee Curtis. Talk about devotion to family! To top it off, Carpenter's baddie likes to stalk his prey in the scariest costume anyone could imagine, a mask of William Shatner. The small town setting, creepy music and over the top acting by Donald Pleasence all help put this macabre spectacle it in a league of its own. It always amazes me that this little film set the tone for all other slasher flicks to come, and none of them have even come close to replicating the sheer terror that is Halloween.
• • •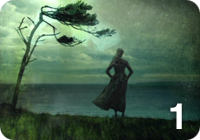 The Ring (2003)
I can't exactly put my finger on what makes The Ring so disturbing. Maybe it's the subtle mix of macabre elements like the blurred faces in the kids' photos, or the calculated use of the gray-green color palette that permeates the film. Whatever it is, it works because every time I watch this nightmarish flick I get goose-bumps. The story is woven so cleverly and makes such great use of foreshadowing that when the "gotcha!" moments arrive, they seem even more upsetting than they should. Like Halloween, The Ring spawned a bunch of would-be knock offs including The Grudge, Saw and Hostel. None of them come even close to the terrifying poetry that The Ring represents. Every year at this time, The Ring is right at the top of my list of spooky films to watch. Sometimes before popping in the DVD, I even turn off the phone. Oh come on, like you don't!