Brooms Are Bustin' Out All Over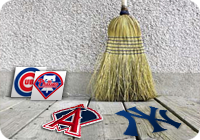 Baseball fans seem to be getting their money's worth this post season. This goes double for devotees of the Colorado Rockies, Arizona Diamondbacks, Cleveland Indians and the Boston Red Sox. All four teams are so far undefeated in post season play, much to the disappointment of Cubs, Phillies, Angels and Yankee fans everywhere. Of all the division playoffs so far, the most surprising has been the Yanks and Indians. I think it is safe to say that few expected the Indians to shut out the Yankees so effectively, but now the series heads back to New York for today's 6:30pm game. If there is any team in Major League Baseball that won't go quietly into the night, it's those damn Yankees. I think Jeeter and company would have actually won game 2 if it hadn't been for the spectacularly bad catching of Posada along with all those wonderful bugs. I fully expect tonight's game to be an old fashion brawl with the Yankees emerging as victors. Back in 2001, the Yankees were down 2-0 vs. the Angles and came back to win. Of course I could be wrong. The Yankees, after all, have been known to choke before.
The Red Sox have had a relatively easy go of their division series thus far, but now they head to California. The Angels won the most home games of any team in 2007 and as such are hoping for the momentum they need to beat back Ortiz, Manny and Shilling. After Dice K's weak performance in game 2, I was actually surprised that the Sox pulled it off, so I'm less confident about a Boston sweep than I should be. I predict the Sox will lose today, then come back in game 4 to take the division. Similarly, I think the Yanks will crush the Indians tonight, but will ultimately lose, probably in game 5 back in Cleveland.
Any way you cut it, this is a great time to be a baseball fan. We've seen some fantastic moments so far, and I'm sure there will be much more to come. It was sad to see Chicago get clobbered so badly, I have an understandable affinity for those cursed Cubbies. However, as we said in Boston for over 8 decades, "There's always next year". Now if you'll excuse me I have to get going, my floor needs sweeping.
UPDATE: Seems that the Angel's record at home during the regular season didn't amount to squat. The Sox sweep the Angels and head to the ALCS thanks to a ball-busting 9-1 slugfest. God, I love being wrong. Now it falls to the Indians to see if they can sweep A-Rod and Jeeter out of the post season. My gut says the Yanks will still win big tonight.
UPDATE II: The Yanks manage to hold the brooms at bay and come away with a win tonight. Despite the victory, New York was far from perfect. Clemens put in a dismal performance and was taken out in just 3 innings. Was he really worth that $15.6 million dollars? And while we're at it, what's up with Steinbrenner threatening Joe Torre with dismissal? Yanks get to the playoffs, but evidently that isn't good enough. At any rate, another game tomorrow. Should be fun!
UPDATE III: Well, the Yankees avoided the sweep, but they're still out. Nothing like beating a team in their own park. The best part about the Indians going to the ALCS is that now I don't have to hear the phrase "Joba Rules" anymore. Thank GOD. Bring on the Tribe!