AAPL Hits $160; Keep Crying iBabies!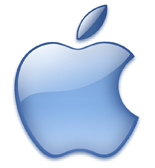 There seems to be a growing backlash against the popular notion that Apple royally screwed up the iPhone 1.1.1 update. Sure lots of developers are berating Apple for locking them out of the platform, and even more people seem to want to sue Apple for the smallest little thing, but in the grand scheme of things, these attitudes don't amount to much. Apple will conduct business how it sees fit and no amount of whining, throwing fits or hiring lawyers will change that. All the while these pouty, scorned users are planning on ditching their iPhones for the latest non-wonders from Verizon, Apple is selling a ton of iPhones and the stock continues to climb.
Just nine days ago AAPL hit an all time high of $150, and now it has done it once again by passing the $160 mark. Does this sound like a company that has jumped the shark to you? The simple fact that most iPhone crybabies forget is that 99% of the gadget using public doesn't even know how to set their VCR's clock let alone hack their iPhone. They are content to let the iPhone be the masterful gadget it is, free from the burdens of 3rd party patches, font hacks and even awesome touch-sensitive games. Sure I'd love to be able for people to play Frenzic on the iPhone, I've said as much in the past. But I fully understand why Apple has had to lock down the iPhone and I actually agree with it. When they are ready for 3rd party developers to produce software for the platform, they'll come knocking. Until then, we're all just living in a "wouldn't it be great!" fantasy land. Apple never promised us a developer's rose garden, and no amount of wishful thinking or revisionist history will change that. Does it suck? Sure, but as someone from one of my favorite TV shows says, "Deal with it!"
Disclosure: Yep, you guess it, I own stock in Apple Computer.
UPDATE: In what is perhaps the worst case of iBaby whining so far, a man in California has filed suit against Apple because he cannot use the iPhone with a competing carrier. Once the 1.1.1 update was applied, his unlocked, hacked iPhone was bricked and became unusable. Forget for a second that he agreed to the terms when he activated his phone and unlocking it voided his warranty. Forget that he knew full well that he had to sign an exclusive contract with AT&T for two years. And most of all forget that he can get his iPhone working again by restoring back to the 1.0.2 firmware. Forget all of these things and what you are left with is the biggest, most disgusting pile of litigious crap I've ever seen. This is why the rest of us can't have nice things.