Behold the Power of Kids!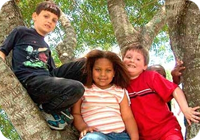 One night when I was five years old (as the story is told to me), I sat at dinner with my parents. Aside from mom's wonderful cooking, was the typical helping of cigarette smoke from my parents' ash trays which were perched on the dinner table in their usual spots. That night, out of the blue, I asked mom and dad to quit smoking. I'm not sure if mom had smoked while she carried me, but both her and dad had smoked all through my first years in our home. Right up until that night at the dinner table. One simple plea from their only son did what multiple doctor visits, a modified diet and even a hypnotist could not do… change their behavior for the better. After that small request from me, they got serious, worked hard and threw away the cigarettes forever.
So when I read an article in last week's Wall Street Journal about how kids are starting to influence their parents in matters related to the environment, I knew exactly what was going on. Our public school system has stepped up and is teaching kids beneficial practices like remembering to turn off lights when you leave a room, or how to switch from wasteful incandescents to compact fluorescents to help lower carbon emissions. Children all across the country are mobilizing families to help do their part for the future. Parents now think twice about not recycling or buying that big SUV. According to the article, one boy even convinced his family not to just replace their failing roof, but to upgrade it with solar panels. I say, if it takes your kid to convince you to do the right thing when it comes to how to treat the environment, so much the better.
Parents have always wanted what's best for their children. It's the reason why my mom and dad quit smoking when I asked them to, and it's the reason why so many parents are now re-insulating, recycling and reusing around the house. We want our kids to grow up in a world that is just as good, if not better than the one we got from our parents. We all want to do what's best, not just for our children, but for our friends and neighbors as well. It makes perfect sense to plant a tree, turn off extra lights or promote alternative energy sources, but all too often things like these are overlooked. Sometimes all we need is a gentle nudge from those we love to make everything crystal clear once again. Call it kid power for the 21st century, and just in time too.