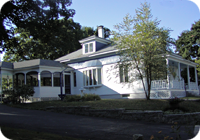 The more things change, the more they stay the same. All the familiar sights, sounds and smells of home jumped out to greet me as I got out of my parent's car and stood in the driveway of my childhood home. "She'll be 100 years old in just a few years." dad said as he helped mom out of the car. My grandfather had build our home back in 1917 for the huge sum of $2,000 with help from his family. Complete with a granite walled basement (that floods most every spring), and an old fashion pass-through from the kitchen to what used to be the dining room, my parents have done a remarkable job of keeping the house up, despite being in their late seventies. "I'm home again." I thought to myself as I settled in for a week of relaxation, visiting relatives and exploring old haunts.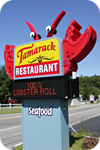 Growing up in the small New England town of Laconia, NH meant beautiful foliage in the fall, endless hours of sledding in the winter and beaches packed with tourists in the summer. Nestled along sprawling Lake Winnipesaukee, Laconia and her surrounding townships, are a classic destination for anyone looking to get away from the hustle and bustle of modern life. Vacationers from Massachusetts to California all come to enjoy good food, the White Mountains and crystal clear lakes. One of the favorite local eateries is the Tamarack Restaurant. Located on Route 3 in Weirs Beach, the drive-up style diner proudly serves its 100% fresh lobster roll each summer, that some say, is the best in the entire lakes region. Lobster roll, YUM!
Despite all of this, it is a truism that kids seldom appreciate the place where they grew up. Looking back now, I'm a little ashamed to say that I didn't fully treasure my home and all it had to offer. I think I can chalk this up to simply being a kid who was too wrapped up in school work or playing in the brook to realize what was happening all around me. Visiting my parents this past week brought to mind everything they gave me while I was growing up – a safe place to play and learn, friendly neighbors who looked out for each other and the love and support of our huge family. When I was a kid, it always seemed like my dad would point to someone and say "See him/her? That's your cousin." So although I was an only child, I always had plenty of help getting into trouble. One of my notorious side-kicks was my cousin Judy. You always remember the good times it seems, and my memories of her and the rest of the Maheux/Groleau clan bring smiles to my face. Judy has a family of her own now, a loving husband and two sons and I couldn't be happier for her. Visiting with her reminded me that I have to do a better job of staying in touch.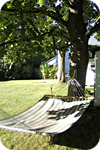 Things have changed around Laconia now, but thankfully not much. Some businesses have closed, but others have sprung up in their place. Sacred Heart Parish where my family attends mass is alive and well, the beaches are still crowded and the drive-in movie theater at the Weirs manages a double feature every night in the summer. Kids still pump quarters into the video and skee ball games at Funspot (more on this later), older streets are still a wreck from nasty frost heaves, and children still come home to visit their folks from time to time. Some of those children sit and enjoy a Red Sox game with their parents and quietly think to themselves how lucky they've been. Lucky to have been raised in a place so wonderful, by people so generous and loving. Thomas Wolfe once said "You can't go home again." Thanks to my trip this past week, I know now that nothing could be further from the truth. May we all be so blessed.