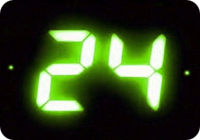 Here is a bit of news from the Washington Post that is sure to bristle the spines of climate change critics everywhere. As part of Fox's company wide Cool Change directive, spokesman Chris Anderson says that the entire production of their hit show, 24, is going green. The Post reports that when production starts on season 7 this month, both vehicles and generators will run on a more "planet-friendly" biodiesel blend of fuel which will start at 5% and gradually increase as filming continues. In addition, the show's electricity bill will be spent toward renewable-energy credits that will bring shares of wind, solar and water power to the power grid of Los Angeles.
As the face of 24, actor and producer, Kiefer Sutherland stars in a short video on Fox's website that talks about the production's initiative as well as tips that people at home can take to heart to help fight climate change. More web installments are planned once the show begins airing in January, and the concept of climate change is even said to be being worked into this season's plot lines (don't laugh, anything is better than last season). Sutherland has high hopes that by making 24's production carbon neutral, they will lead by example and demonstrate that the problem of global warming is solvable.
Perhaps the most positive thing to come out of this development isn't that 24 will be using less fossil fuels or even that it will spread the word about the genuine danger of climate change. No, the real news here is that a show with such deep conservative roots, on a partisan network like Fox, is taking a position on an issue that is in direct opposition to main stream right-thinking. The show's co-creator and executive producer, Joel Surnow is an unabashed "right-wing nutjob". Recently he helped to create Fox's answer to The Daily Show, the 1/2 Hour News Hour and has taken flack for 24's casual treatment of torture and abuse of civil liberties. Indeed, 24 has even been used by some GOP candidates as a talking point to illustrate how America should deal with terrorists.
So when a staunch conservative like Surnow can set aside his partisan beliefs and see climate change for what it is – a global issue that threatens all of us, I feel hope. We must look beyond party loyalties, face scientific facts and get to work. The Cool Change initiative at Fox, and 24's efforts specifically, speak to a mind set that is spreading. Unfortunately, as is often the case on 24, the clock is ticking. Now is the time when we, not Jack Bauer, swing into action and make a difference. Let's just hope we're in time.