A Match Made In Geek Heaven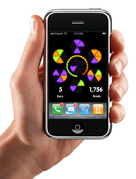 Over at my place of work, I often receive email asking what people can do to help support the Iconfactory. I always reply that the best way is to purchase our software and to generally spread the good word about efforts to support the Macintosh and icon creation community. Since WWDC 2007 though, we've thought of another way that the average person could help show their love for what we do, and it doesn't even cost a penny.
Earlier this year we released our very first game for the Macintosh platform in conjunction with ARTIS Software. Frenzic is new take on classic puzzle games like Tetris that is easy to learn and quite literally can take months to master. The game was met with positive reviews, scores of downloads and an entire roster of enthusiastic players from around the world. People agree that one of the things that makes Frenzic so fun to play is its simplicity. Stay alive as long as possible, rack up points, power-ups and lives to scratch and claw your way up the leaderboard.
It occurred to us quite early in Frenzic's development that it would make an outstanding game for the mobile phone platform and the iPhone in particular. Simply touch the screen to place pieces in the appropriate circles, touch power-ups to activate them and try valiantly to resist addiction! Games of Frenzic typically take anywhere from 5 to 15 minutes making them perfect time killers in doctor's offices or the airport. The game is programmed entirely in Cocoa and doesn't rely on external game engines like Open GL so it would be extremely easy to port to the iPhone.
Needless to say we did our best to pitch Frenzic to Apple at the recent WWDC Developers conference in San Fransisco, but as the saying goes, it doesn't hurt to have some insurance. This is where you come in. Head on over to Apple.com and take a moment to let Steve and gang know you'd love to have Frenzic as a premiere game for the iPhone. If enough people write, our little game that could, just might join the historic ranks of Bejeweled and Tetris. We'd love the opportunity to bring Frenzic to an iPhone near you, and with your help, it just might happen.